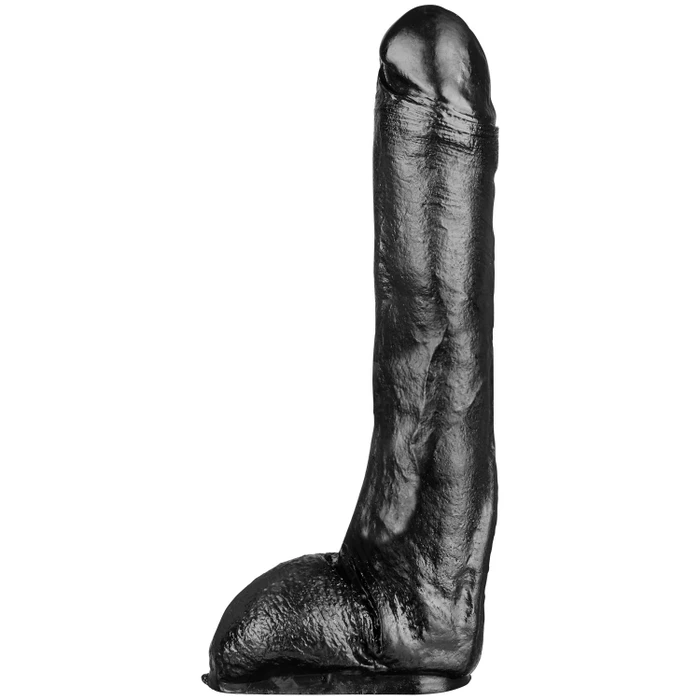 All Black Sven Dildo 11.4 inches
In stock
Delivery 3-6 days

Sinful Aqua Water-based Lube 100 ml

Sinful Clean Sex Toy Cleaner 100 ml
Overview
Want it big and black? As in really big! Then the impressive All Black Sven dildo is developed with you in mind.
It's 11.5 inches in length and has a diameter of 2 inches. With a clear penis head, realistic veins and wonderfully firm balls—a lot of attention has been put in the details on this potent gentleman.
Made from flexible, body-safe vinyl, which makes the dildo soft and comfortable to use without compromising the essential core firmness.
Can be used anally as well as vaginally, and it's waterproof for sexy shower play. We recommend plenty of lubricant.
Due to its size, Sven is ideal for those who have experience with XL dildos and just can't get them big enough.
Brand
All Black
Product Weight (g)
620
Full Length (in)
11.42
Insertable Length (in)
9.45
Diameter (in)
1.97
Primary material
Vinyl
Colour
Black
Recommended Lube
Water based
Language
English
SKU
19301
Customer reviews (0)
Ok but rough finish
Have had fun a few times with it, it is ok according to the price, could be a little bigger in our opinion, but it is good as a warm-up for something bigger or ...

Read more
K&S - 16. may. 2021
Surprisingly easy the first time
Just got this home and was a little excited about the quality, but for the price it really makes sense. I was amazed at how easily it went up in terms of it bei...

Read more
Man in his 30s - 23. mar. 2021
Delicious
Incredibly good when it finally got to the bottom, incredibly good to sit on
Lotta - 25. jun. 2021
Love it
Definitely the best buy so far, for the inexperienced it is bigger than what you should start with, but with a little practice I got the whole of it in
Kevin curious - 2. feb. 2021
All Black Sven Dildo 29 cm
My partner likes this very much. She's already used to slightly larger dildos, so the size was not a shock. Apparently, a dildo with a lovely filling feeling. A...

Read more
Mikko - 15. jun. 2021
Benefits