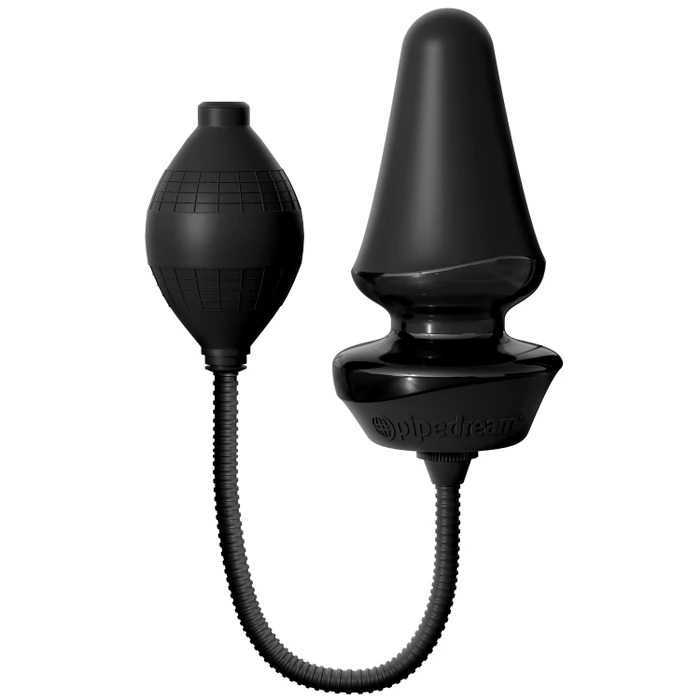 Anal Fantasy Elite Inflatable Butt Plug
In stock
Delivery 3-6 days

Sinful Clean Sex Toy Cleaner 100 ml

Sinful Anal Water-based Lube 100 ml

Sinful Anal Relax Gel 50 ml

Sinful Soft Comfort Anal Douche
Overview
Are you ready for more? Then embark on a new anal adventure with the Anal Fantasy Elite Inflatable Butt Plug.
Insert the plug up, and inflate it with the handpump until it's precisely the size you are comfortable with. The plug expands in width, and the length remains unchanged at 3.5 inches.
With the removable pump and pipe, play can continue undisturbed once the right fullness is achieved. An air-release vent in the base of the plug ensures that you can release the air out without attaching the pipe again.
Manufactured from phthalate-free and latex-free silicone.
Brand
Anal Fantasy Elite Collection
Product Weight (g)
170
Full Length (in)
4.72
Insertable Length (in)
3.54
Diameter (in)
2.13
Width (in)
2.13
Primary material
Silicone
Colour
Black
Recommended Lube
Water based
Language
English
SKU
19959
Customer reviews (0)
Fidgety
Plug has adequate inflation, and is easy to insert though there isn't much distance between the base and the bulb part of the plug. Connecting the pump is quite...

Read more
Joe - 14. nov. 2021
A little disappointing
The neck or stem of the Butt plug was too short to push inside completely .. the man has tight buttocks .. When we got it inside I could not hold the hose Spac...

Read more
MissPCopenhagen - 4. aug. 2021
A little disappointing
The neck or stem of the Butt plug was too short to push inside completely .. the man has tight buttocks .. When we got it inside I could not hold the hose Spac...

Read more
MissPCopenhagen - 2. aug. 2021
Super experience,
Then I got to try out this fine case, after warming up with other toys this one had to be tried. WOW a delicious experience, delicious feeling when it sits in p...

Read more
Morten - 4. jul. 2018
Not a must-have
The product description itself has no pictures of the toy compared to something of a known size. It is therefore difficult to estimate size based on the webpage...

Read more
DenDerre - 18. jan. 2019
Big, nice but a bit awkward
It is large and it can take some time to get in place. The narrow part could have been a bit longer. The pump works okay, it can leak a bit when you pump, but i...

Read more
Gurra - 16. oct. 2020
Benefits