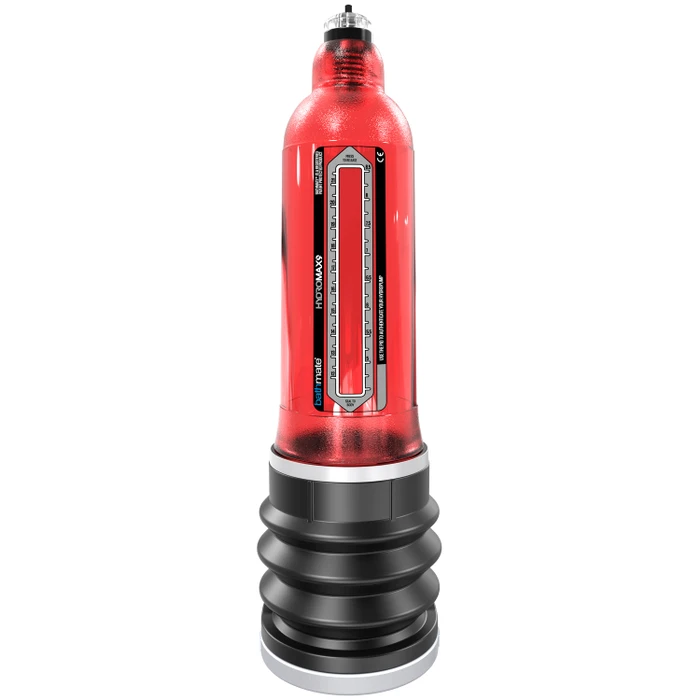 Bathmate Hydromax9 Penis Pump
In stock
Delivery 3-6 days

Sinful Aqua Water-based Lube 100 ml

Sinful Clean Sex Toy Cleaner 100 ml

Sinful Cock Ring Set 3 pcs

Bathmate HydroVibe Penis Pump Accessories
Overview
Gain a harder and fuller erection with the Bathmate Hydromax9 Penis Pump - the ultimate in hydro technology!
The penis pump works by creating vacuum around the penis by use of water pressure, and with this newer version of the pump, it is now possible to generate 35% more suction than with its predecessor - for even better results, faster!
The Hydromax9 X40 is also more comfortable and creates less pressure around the root of the penis and the balls, and the pump is transparent which will allow you to easily watch your penis grow.
As a new feature, the Bathmate Hydromax9 includes a turning mechanism that allows the pump to rotate 360 degrees, and it is also possible to tip the pump for optimal effect when using the pump in the bath.
How to use the Bathmate Hydromax9: - Make sure the soft ring at the bottom of the pump is firmly attached to the pump. - Lock the grey valve at the bottom of the pump and fill it up with water. A new valve in the Hydromax9 makes it possible to fill up the pump with one hand. - While in the shower, relax and put the pump around your penis. - With the pump in upward facing angle, unlock the great valve and start pumping. - Pump, until the lower black part of the pump is so compressed that you can no longer pump. - For the best result, release pressure after a couple of minutes and repeat 2-3 times during a 10-15 minute period.  
N.B.! With Bathmate it is possible to achieve a more intense sensation during masturbation and intercourse, as well as a harder and fuller erection. It is not possible to achieve a permanent enlargement of the penis with a penis pump, but if you use it often, you will experience a good effect. 
Brand
Bathmate
Product Weight (g)
459
Inner Depth (in)
11.5
Inner Diameter (in)
7.9
Primary material
PC (Polycarbonate)
Colour
Red
Recommended Lube
Water based
Language
German, French, Russian, Chinese, Portuguese, Spanish, Japanese, English, Italian
SKU
13550
Customer reviews (0)
Bathmate Hydromax x40 Penis Pump
Good and solid quality. It takes just a little patience to get used to the new valve system, which easily takes in air if it is not in the right position, as we...

Read more
Bent - 6. aug. 2013
It actually works
After reading around, I chose to go for this one. I used Hercules for a while, but have found greater benefits from this - it is more comfortable. This is easy ...

Read more
Naturists - 4. feb. 2015
For those who are 22+
All Bathmates are durable, well-functioning and probably one of the best pumps on the market. Bathamate Hydromaz X40 is for those who are already big. If you ha...

Read more
Peter Gischen - 25. aug. 2017
From grower to shower!
After owning this for a couple of weeks now, I just say BUY it! I have been a grower before and even though I am well above average, I have always wished I cou...

Read more
Mr Magoo - 11. jul. 2017
Top quality pump for cheap!
A pump intended for use with water, which expands the penis, but cause moderate accumulation of interstitial fluid relative to its power (the tissue fluid accum...

Read more
www - 8. may. 2019
Benefits