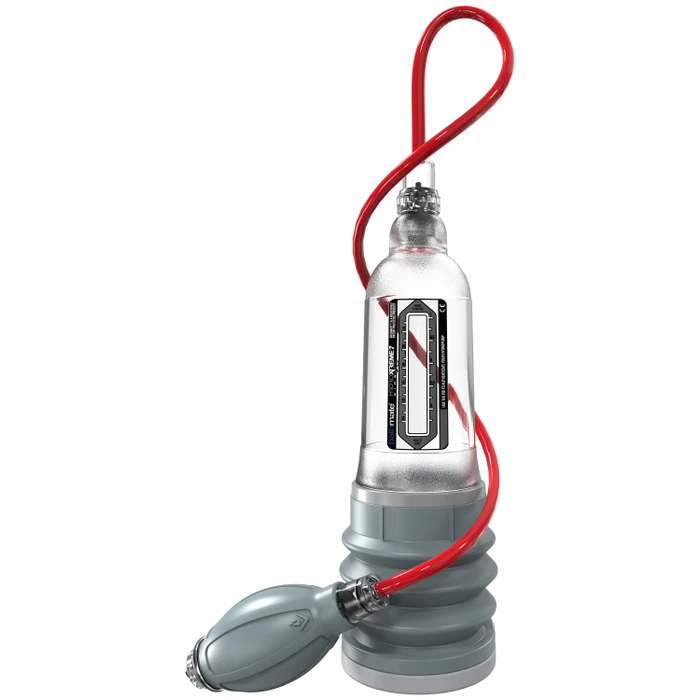 Bathmate HydroXtreme7 Wide Boy Penis Pump
In stock
Delivery 3-6 days

Sinful Aqua Water-based Lube 100 ml

Sinful Clean Sex Toy Cleaner 100 ml

Sinful Cock Ring Set 3 pcs
Overview
This one is for the big boys who are all about maximising their gains! With the HydroXtreme7 Wide Boy penis pump from Bathmate, you get the most from your boast thanks to the water pressure pump that can be adjusted by a simple squeeze on the attached handball.
This powerful hydropump is built for convenience and results! Fill it with warm water, attach it to your body and start building up pressure. You can maximise pressure as easy as 1-2-3 by squeezing the ball attached to the tube.
You are going to need your big boy pants when you are done using your Wide Boy pump because the girth coming from the suction is unmatched! The pump fits the girthier showers and growers with a maximum length of 6.5 inches when erect.
It is a great choice for experienced users in particular. For first time penis pump exercisers, it is recommended to start off without using the handball.
Brand
Bathmate
Product Weight (g)
1365
Included
Storage Box, Pump, Shower strap, Cleaning accessory, Measuring tape, Padlock, Lubricant, Towel, Sex Toy Cleaner sample
Full Length (in)
11.81
Inner Depth (in)
9.84
Inner Diameter (in)
2.36
Stretchable Inner Diameter
Yes
Primary material
PC (Polycarbonate)
Colour
Clear
Recommended Lube
Water based
Language
Italian, German, Spanish, Russian, Portuguese, Chinese, English, Japanese, French
SKU
24599
No one has reviewed this product yet.
Benefits