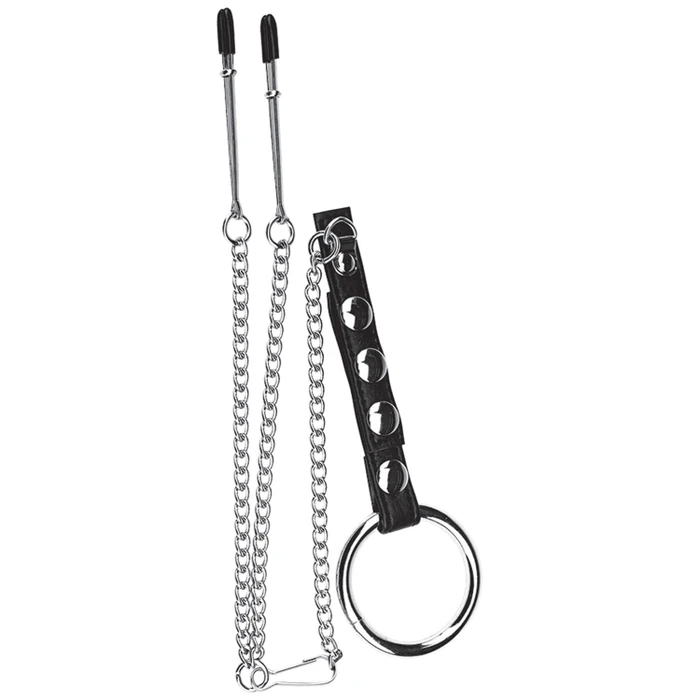 Blue Line C&B Gear Cock Ring with Nipple Tweezers
In stock
Delivery 3-6 days

Sinful Aqua Water-based Lube 100 ml

Sinful Clean Sex Toy Cleaner 100 ml
Overview
Add nipple stimulation to your penis ring game for ultimate arousal with the Blue Line C&B Gear cock ring with nipple tweezers.
Slide your penis through the metal ring and enjoy its cool surface and weight against your base. The ring helps provide harder erections and better stamina for longer-lasting sessions. Place a tweezer on each nipple and adjust the tightness depending on whether you enjoy slight pinches or harder bites.
Sturdy chains fall from the tweezers to connect with the adjustable faux-leather strap on the penis ring. You can disconnect the two, or enjoy how every move of your torso or lower region adds a tug to its connected part. You may even pull the chain and demand attention for even more stimulating tugs.
Brand
Blue Line
Sub Brand
G&B Gear
Product Weight (g)
84
Stretchable Inner Diameter
Yes
Primary material
PVC
Colour
Silver
Recommended Lube
Water based
Language
English
SKU
26175
No one has reviewed this product yet.
Benefits