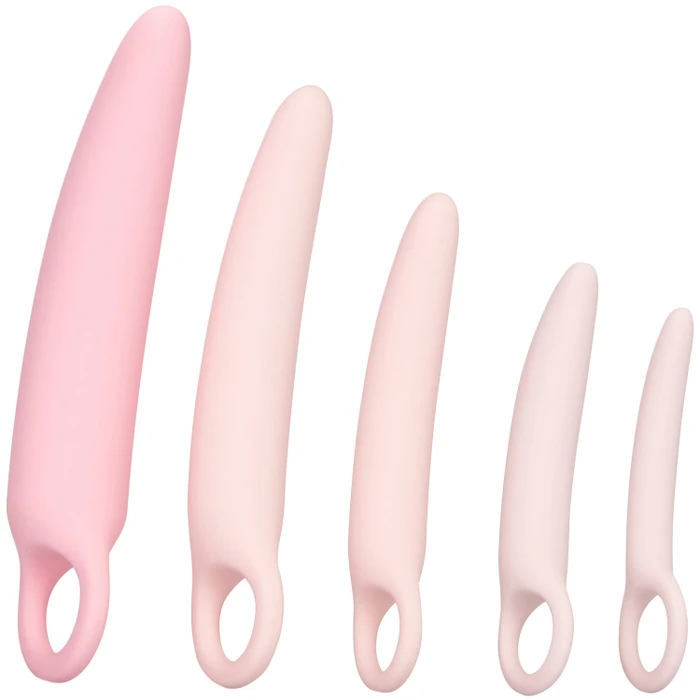 CalExotics Inspire Silicone Dilator Set
In stock
Delivery 3-6 days

Sinful Aqua Water-based Lube 100 ml

Sinful Clean Sex Toy Cleaner 100 ml
Overview
The Inspire Dilator set from the American CalExotics is the perfect set for you who would like to get used to having something up your vagina or anus.
Contains 5 dilators in graduating sizes, both in length and thickness.The smallest is no bigger than a finger, and the largest is no bigger than a small dildo. In that way, you can train at your own pace.
Manufactured from soft and comfortable medical silicone. Each dilator ends with a ring, which ensures optimal control. Especially during anal use when you need to keep the dilator where it should. 
The set can be used for both pelvic floor training, for vaginism and for sensual and joyful play with yourself or a partner. 
By using it for training the pelvic floor muscles, you give your partner a tighter, more intense feeling while increasing control, strength and extra strong orgasms.
Brand
CalExotics
Sub Brand
Inspire
Included
Dilator Set
Primary material
Silicone
Colour
Pink
Recommended Lube
Water based
Language
French, Spanish, Russian, German, English
SKU
16596
Customer reviews (0)
Relieved pain in my genital area
I could not have sex at all because I was so tense. The dilators have really remedied my problem, so I am not tense at all anymore. Really a help to my pelvis.
Lark - 6. jun. 2020
Super product
They are so easy to use. You start with the smallest first, then also further up until you feel comfortable. The ring at the end is really smart. I have myoses ...

Read more
T - 20. jan. 2020
Super good product
I would highly recommend this product, this has helped me a lot with my pelvic tension. When I used the set for the first time, it was almost impossible for me ...

Read more
Sara - 5. mar. 2018
Good for vaginismus
I bought these to treat my vaginismus and they have worked great at getting my vagina used to penetration. The material is nice and I like the rings at the ends...

Read more
Pernilla - 3. aug. 2021
Benefits