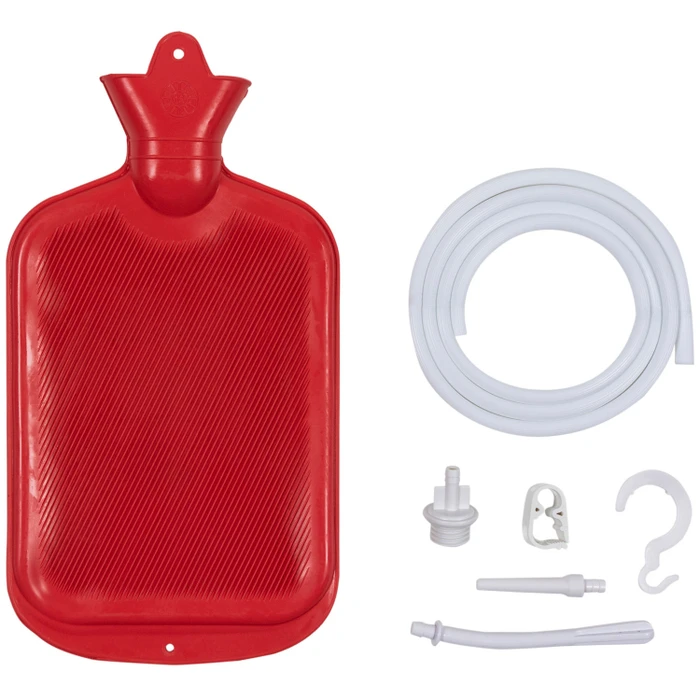 Clean Stream Water Bottle Douche Kit
In stock
Delivery 3-6 days

Sinful Clean Sex Toy Cleaner 100 ml

Sinful Anal Water-based Lube 100 ml

Sinful Soft Comfort Anal Douche
Overview
The Clean Stream Water Bottle Douche Kit assists you in keeping a grade-A hygiene with intimate cleaning before anal play.
With the intimate cleaner, not only will you get wonderfully clean, but it also helps you avoid unpleasant surprises in the middle of play.  
The Douche Kit consists of a water bottle, a cleaning hose, 2 different cleaners in different sizes with a hook.
How to use your Douche Kit: Fill up the warm water bottle with body-temperature water, connect the hose and place the desired cleaner on the other end of the hose. Hang the bottle up with the included hook, and allow the water to run down the hose out of the cleaner head in a calm tempo.
Then you are ready to decide which direction you want the water to flow.
Make sure to clean the douche kit thoroughly after use. The part that is inserted should be washed with hot water before and after the anal cleaning. 
Don't leave the hose in boiling warm water as it can become deformed. Simply scald it briefly in hot water. 
Brand
Clean Stream
Product Weight (g)
440
Included
Bottle, Cleaning Hose , Cleaning accessory, Hook
Full Length (in)
59.06
Insertable Length (in)
5.31
Diameter (in)
0.47
Capacity
1900
Primary material
ABS-plastic
Colour
Red
Recommended Lube
Water based
Language
English
SKU
12416
Customer reviews (0)
Perfect for anal fun
Unfortunately, my missing sealing ring leaked but I contacted customer service and it worked out :) enema is so good, I feel so much more alert and then of cour...

Read more
Sara - 16. jul. 2018
Excellent enema set
I bought such a set a couple of years ago, and it's still the absolute number one of all my sex toys. Very easy to use, durable material, and an authentic prod...

Read more
A.L. - 12. nov. 2017
Benefits