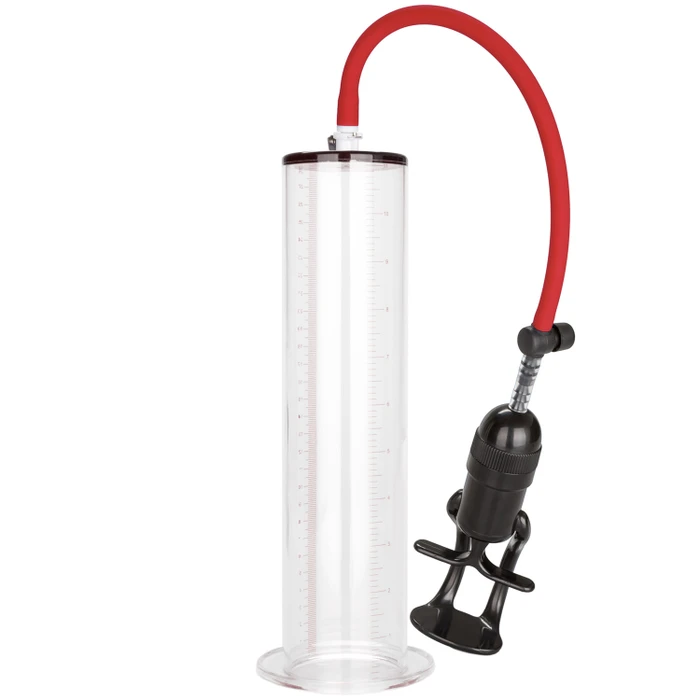 COLT Big Man Penis Pump
In stock
Delivery 3-6 days

Sinful Aqua Water-based Lube 100 ml

Sinful Clean Sex Toy Cleaner 100 ml

Sinful Cock Ring Set 3 pcs
Overview
The COLT Big Man Penis Pump is just what you need to pump you manhood up into the impressive erection you've always dreamed of wielding.
The pump boasts an extra large cylinder with ample space for letting your virility grow. It is transparent and features measurement markings so you can keep track of developments as you pump.
Place your penis inside the cylinder and use the hand pump to create an effective vacuum. You can even combine the pump with a cock ring for an even bigger and longer lasting erection. Use the Quick Release function to break the vacuum at any point.
Once you have achieved the desired result, you can remove the red silicone air hose from the valve while still maintaining the vacuum intact.
The Big Man cylinder has an impressive length of 11 inches and an inner diameter of 2.5 inches. It is made from acrylic, silicone and ABS plastic.
Brand
CalExotics
Sub Brand
COLT
Product Weight (g)
400
Full Length (in)
11.22
Inner Depth (in)
11.02
Diameter (in)
2.76
Inner Diameter (in)
2.56
Stretchable Inner Diameter
No
Primary material
Acrylic
Colour
Clear
Recommended Lube
Water based
Language
French, Spanish, German, Russian, English
SKU
21467
Customer reviews (0)
Disappointment and not worth the money.
The general assessment from here in terms of material and quality as well as price ... is disappointment. Price and quality are simply not related. When your ex...

Read more
JH - 2. aug. 2020
Decent
I must have gotten a bad one, usually the connector leaks air but when it occasionally stays tight, it's really good. An ok pump for us bigger guys. Will, howev...

Read more
Johnny - 13. aug. 2020
Benefits