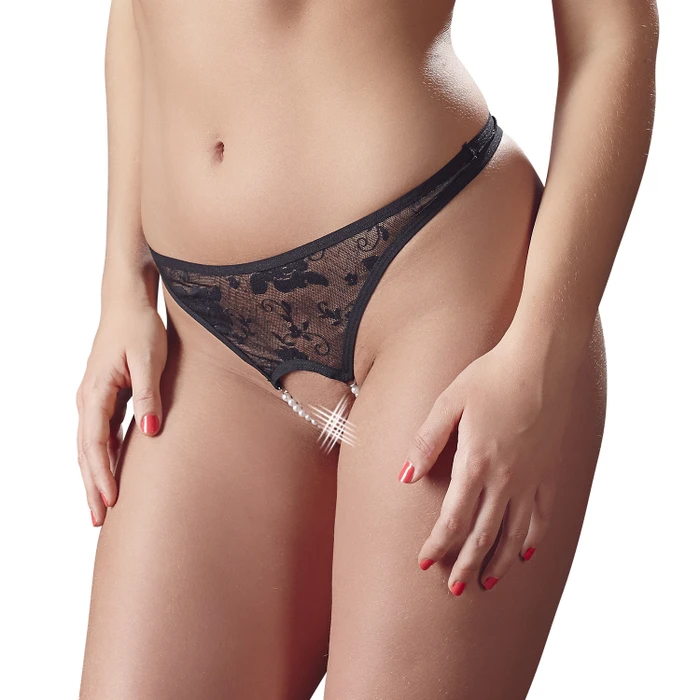 Cottelli Lace Orgasm Pearl G-String
In stock
Delivery 3-6 days
Kaerlig Organic Orgasm Gel 15 ml
Size Guide
Overview
If you're looking to unleash your inner sex goddess and treat your partner to a sexy surprise, then this Lace Orgasm Pearl G-String from Cottelli is just what you need.
The crotchless G-string is at once elegant and erotic in appearance with gorgeous lace and an erotic opening with two strings of peals running over your intimate areas.
The G-string gives your partner free access to stimulate you, both in the bedroom or when you're feeling bold on the go.
The G-string boasts a feminine design and is made from a sumptuous material that both sits and looks great.
Brand
Cottelli Collection
Sub Brand
LINGERIE
Size
S
Primary material
PA (Polyamide)
Colour
Black
Washing Instructions
Wash seperately, Do not tumble dry, Do not iron, Do not bleach, Hand wash in cold water
Lingerie Properties
Bejeweled, Crotchless
Language
Danish, English, German, Spanish, Italian, Russian, Dutch, Czech
SKU
19131
Customer reviews (0)
So hot
You have to start somewhere when a new universe is to be explored, and it was a really good place, they sit so well and are pure pleasure to go with and hide ju...

Read more
Naturmand - 5. dec. 2020
So hot
Use them in combination with crotchless body with socks and holders, they are small and nice, but big enough to just hide most things in front. Feeling super f...

Read more
Naturmand - 5. dec. 2020
Elegance down below
A very appealing and erotic panty. Airy and elegant to wear under an evening dress. A little extra pinch thanks to the double pearl ribbons.
Macke - 10. sep. 2019
Benefits