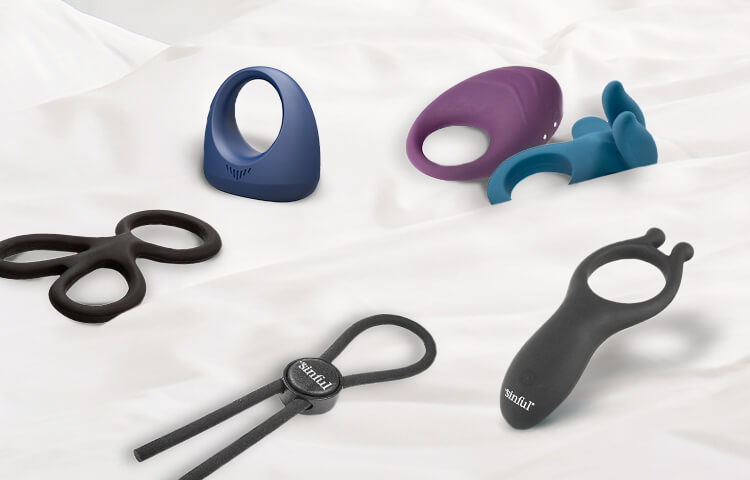 Ditte Jensen
Sexual Wellness Specialist
Cock rings - The ultimate guide
A cock ring can look simple and innocent but don't let that fool you. This little miracle worker has some amazing hidden talents that can benefit your and your partner's sex life. 
Regardless of whether you're completely new to sex toys or are very experienced, there is sure to be a model that meets all your needs. And with prices ranging from £6 - £110, there's also one for your wallet. 
In this guide, we're here to help you get an overview of all your options so that you are best dressed for your new and naughty experiences.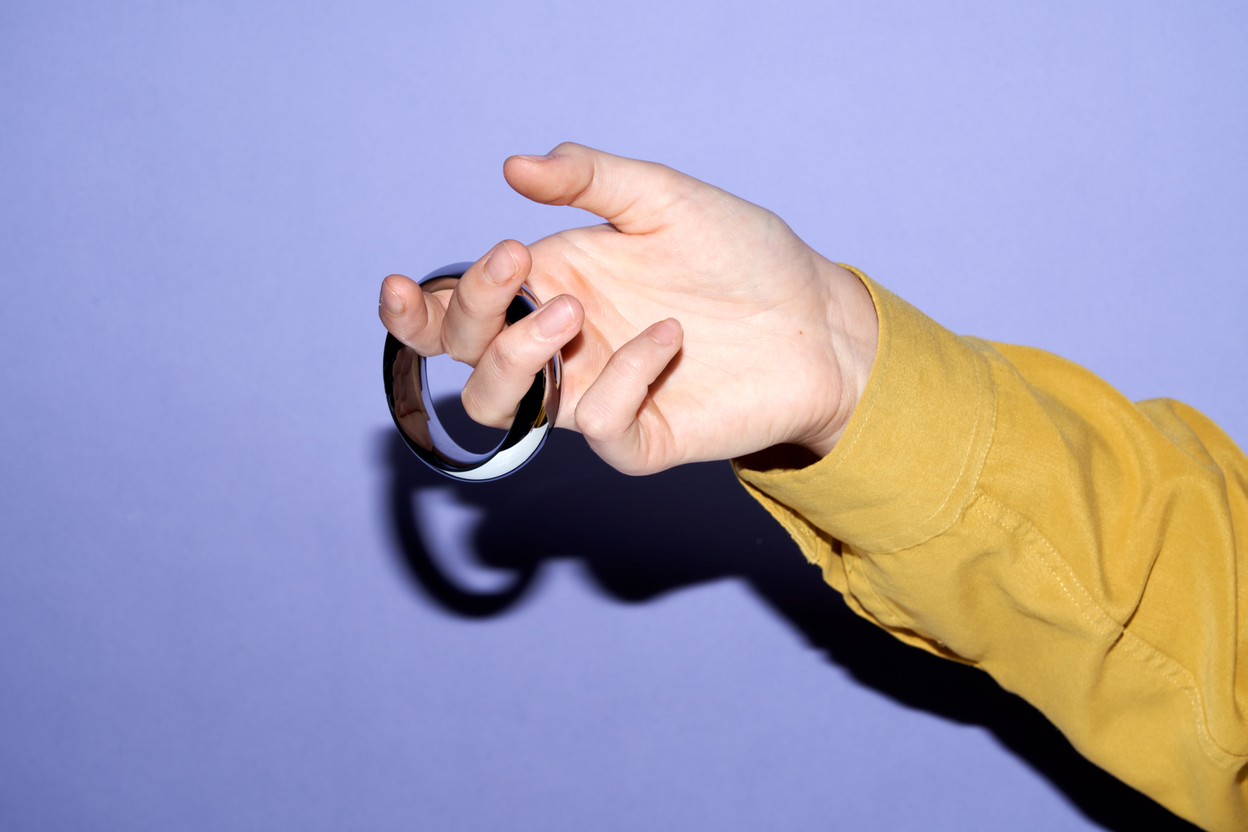 What is a cock ring?
A cock ring can come in many different shapes but it's characterised by the fact that it's a ring, which is placed around the shaft. There are different versions - for beginners, experienced, and those who are very experienced. 
There are some that you can use alone or that are perfect for sex with your partner. Some models also have accessories to stimulate several points of pleasure at once. Although they all have the same purpose, they vary greatly in shape and design. 
Many mistakenly believe that you should only use a cock ring if you have problems keeping it up, but that's a myth.  
Everyone can enjoy this type of sex toy, but let's not forget that it is indeed a fantastic aid for men suffering from impotence.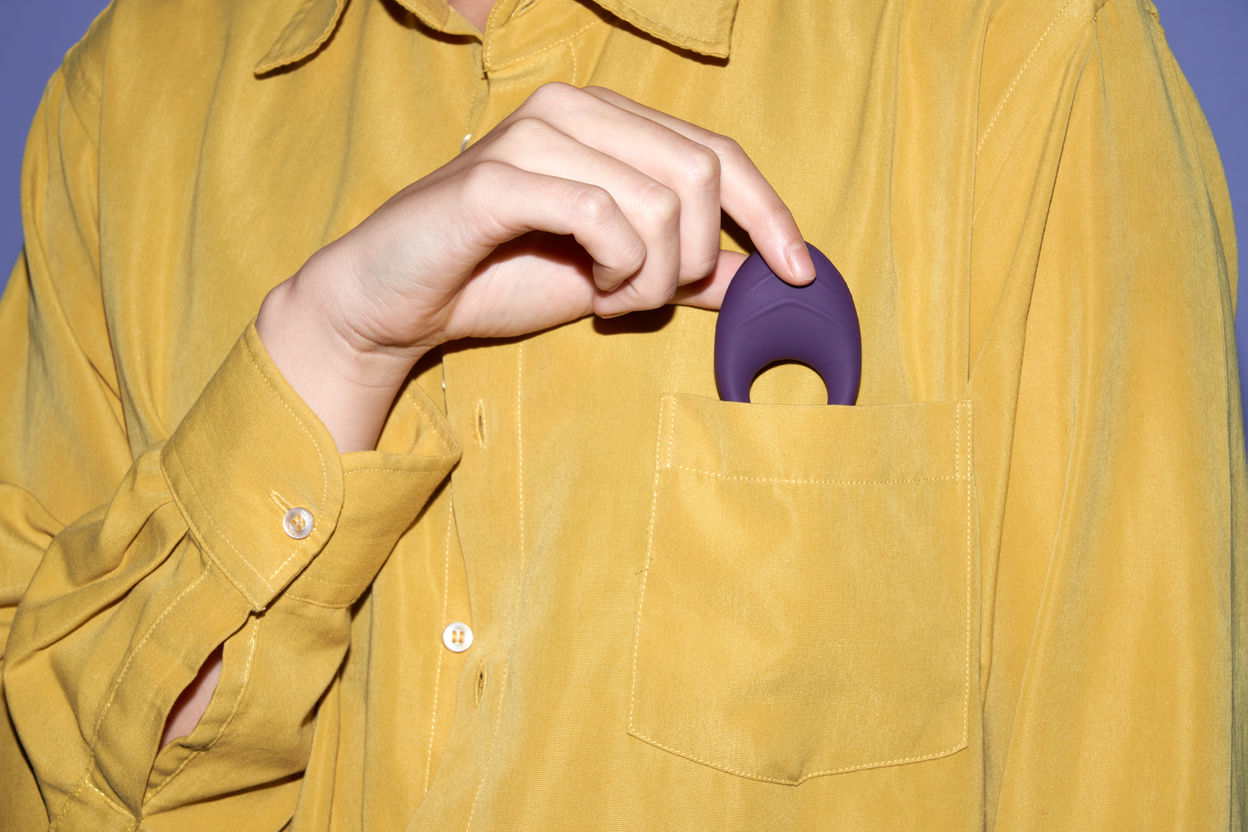 What does a cock ring do?
When a cock ring is placed around the base of your shaft, it should be tight but not feel uncomfortable. Many just have to get used to the sensation but it may take a few tries before you get used to it. 
When it tightens in the right way, it prevents the blood in the penis from flowing back into the body. This is because when you're erect, blood flows into the penis, causing it to swell, and as time passes, the blood flows back into the body. 
The veins are just under the skin, so by using a cock ring, you can slow the process down. 
You can also wrap the ring around your balls and shaft so that it tightens around the whole package. Some also use a penis ring strictly around the balls, which forces the testicles to stay in the scrotum during orgasm, giving an extra intense sensation.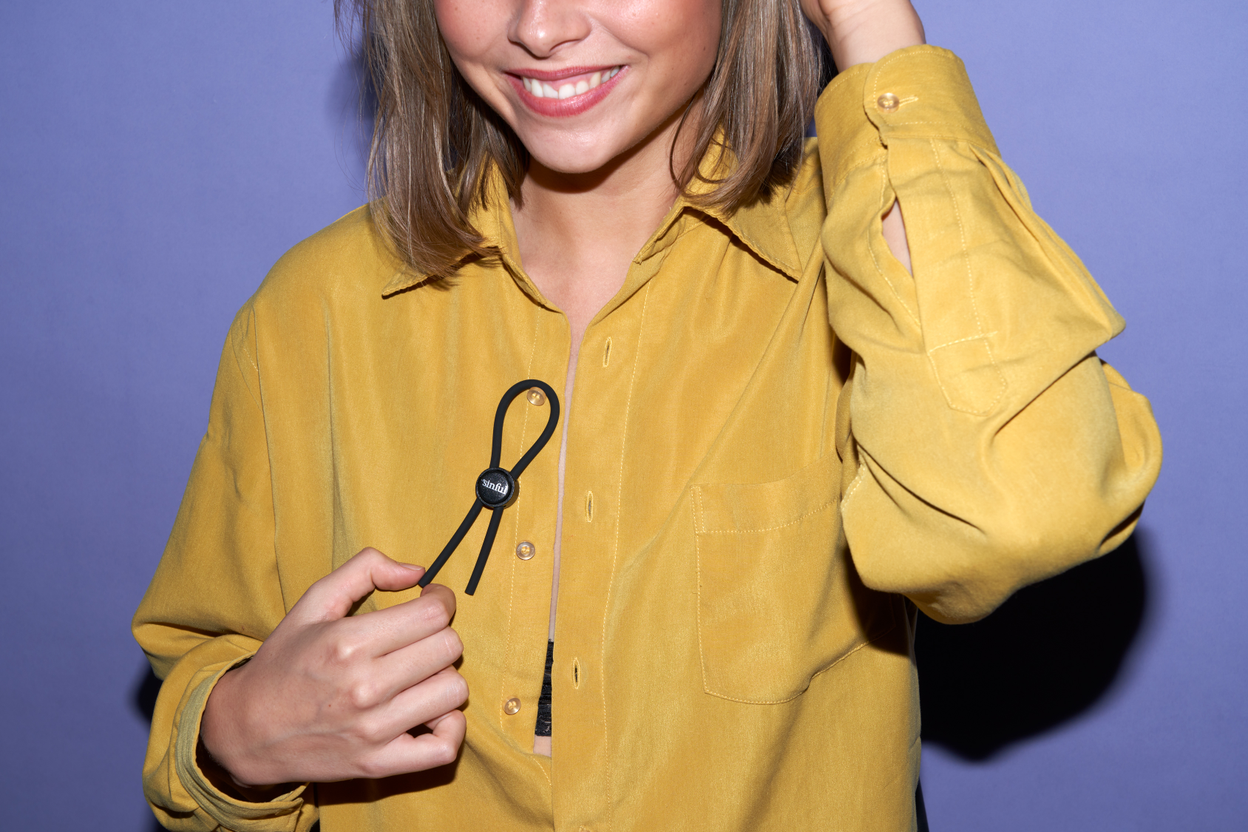 What are the benefits of a cock ring?
There are many benefits to using a cock ring. I mean, do you want to say no to becoming a better sex partner? 
Get harder
Many men and women LOVE the feeling of a rock-hard erection, and this ring is perfect for that! When the ring cuts off the blood flow, it will make your penis feel both harder and fuller. 
Last longer
It almost goes without saying, doesn't it? When the blood flow is cut off from the penis, it has to stay where it is. And that's what gives you a longer-lasting erection. 
You can benefit from it both when you masturbate or when you're with a partner. Regardless of whether you usually last 1 or 15 minutes, the cock ring will delay ejaculation. 
Feel more
You can actually increase your sensitivity by using a penis ring to get even more pleasure during masturbation or sex. And when your orgasm is delayed, you'll often find that your climax feels extra intense. 
Boost your confidence
It can look cheeky when one or more cock rings adorn your penis, and you'll rarely get tired of admiring glances. But seeing your penis bigger, harder and the ability to last longer will raise your self-confidence - and is quite deserved.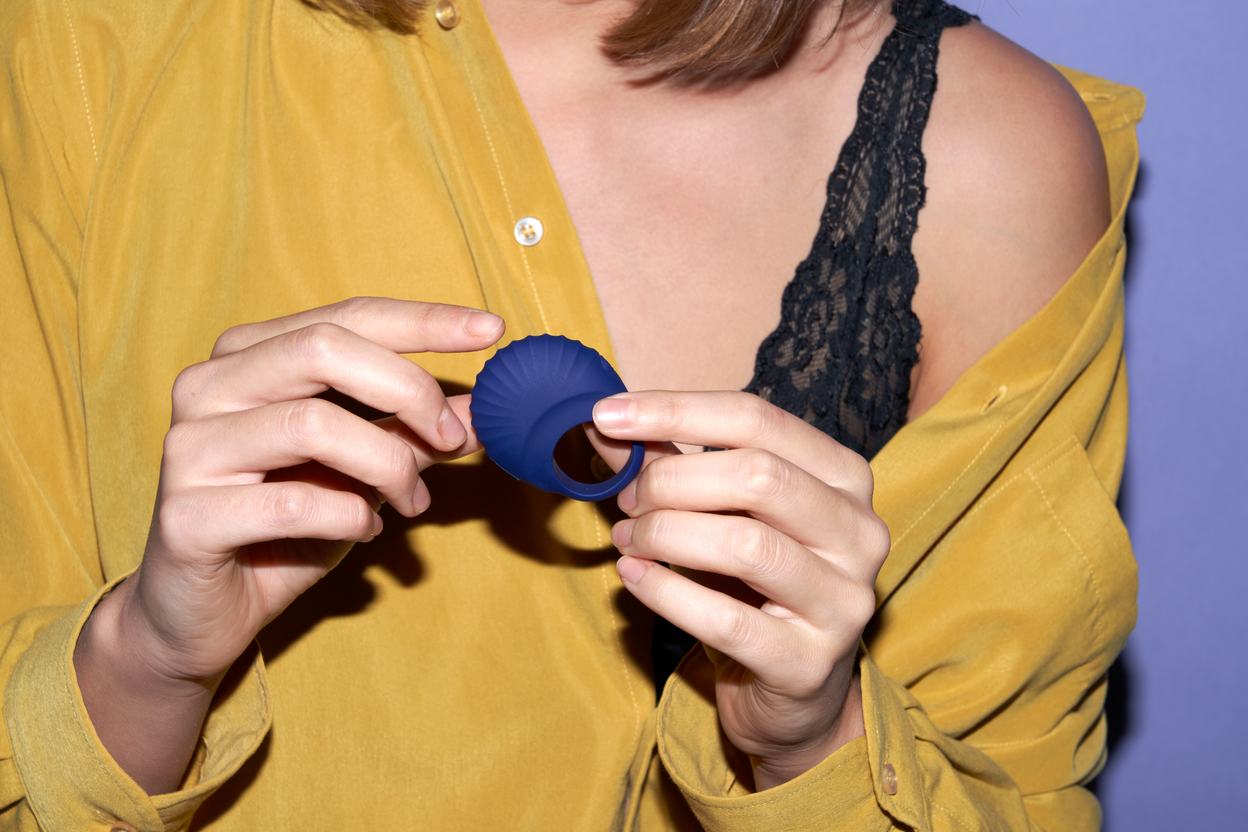 How do you use a penis ring?
As previously mentioned, there are many models in different designs but they all must sit around your private equipment. Although one of the advantages of a cock ring is that you can last longer, it's not recommended that you indulge in hours of lovemaking or masturbation.  
A good rule of thumb is that the sex toy shouldn't be left on for longer than about 20 minutes. But what feels right and comfortable varies from person to person. 
It's important that you listen to your body and remove the cock ring immediately if you experience discomfort, pain or discolouration. And remember to take it off before you go to sleep so you don't wake up with a sore schlong. 
If you have any kind of blood disease, you shouldn't use a cock ring at all - at least not before consulting with a doctor first. 
If you're a beginner, we recommend you start either with a flexible or adjustable cock ring. Finding the right size can take a bit of experimentation which is why a stretchy or adjustable ring is preferable. 
A flexible model is easy to put on because you can simply stretch the material, guide it down the shaft and let it go when it reaches the base. You can do this with ease when you have an erection. The same applies to adjustable models.
If you have more experience, you can choose a type that doesn't have much give or could be made of metal, for example. In these cases, it's easiest to put the ring on while limp and the same goes for taking it off. 
If you want it to sit around the balls and the shaft, it's easiest to do it in a relaxed state. Start by passing your penis through the ring and then the balls one at a time. 
You can use a good water-based lubricant to help. This could be the lube from MR.MEMBR that'll help the material slide easier against the skin, so nothing gets pinched. And it's a good idea to trim the pubic hair beforehand.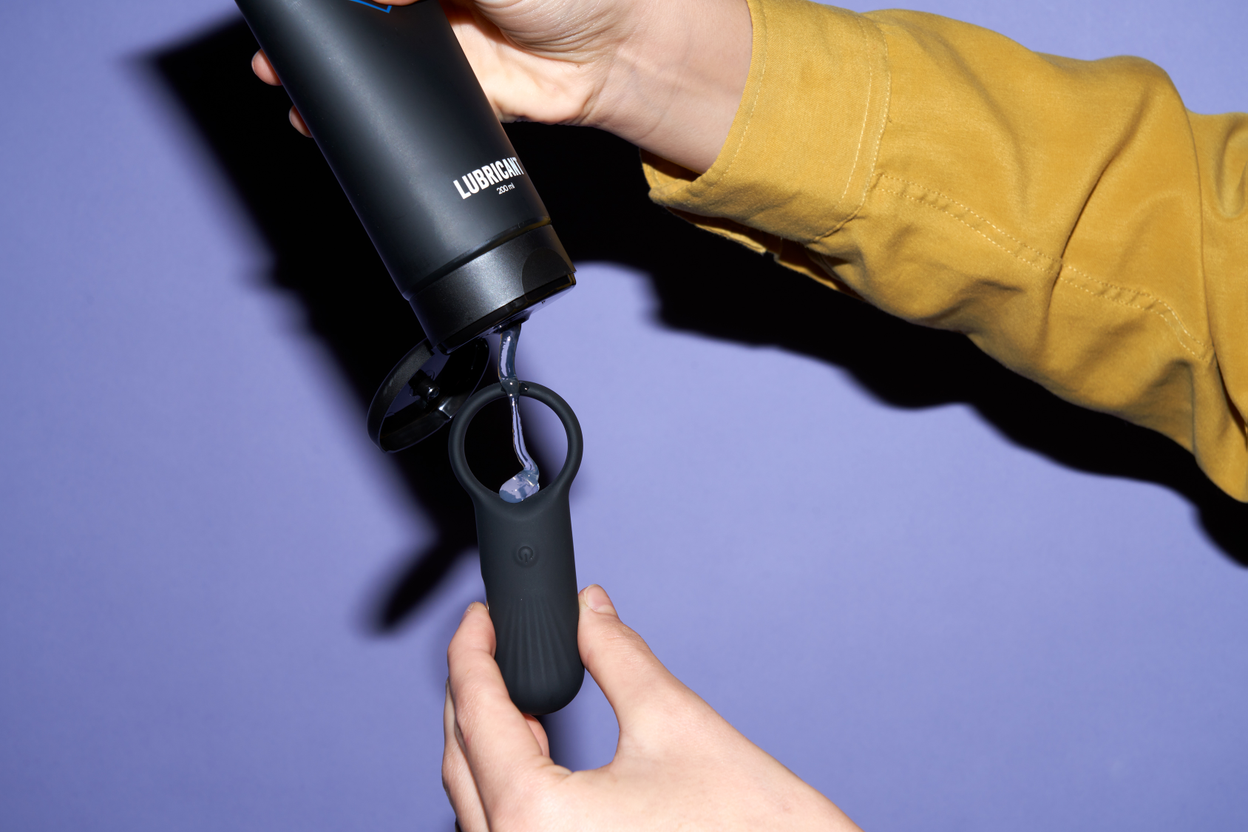 Are you in doubt about size?
If you're in doubt about which size to choose, you can measure your penis before you buy. 
Use a measuring tape to measure the circumference while erect, and remember to measure around your base where the ring will sit. Then you take that number and divide it by 3.14 to get the diameter. For example, if your circumference is 11 cm you then 11/3.14= 3.5 cm.  
You can now compare your own with the diameter of the penis rings which you'll always find inside our product details on our site. 
Psst! Don't have measuring tape from a sewing box? Use a piece of string to measure and hold it up to a ruler afterwards.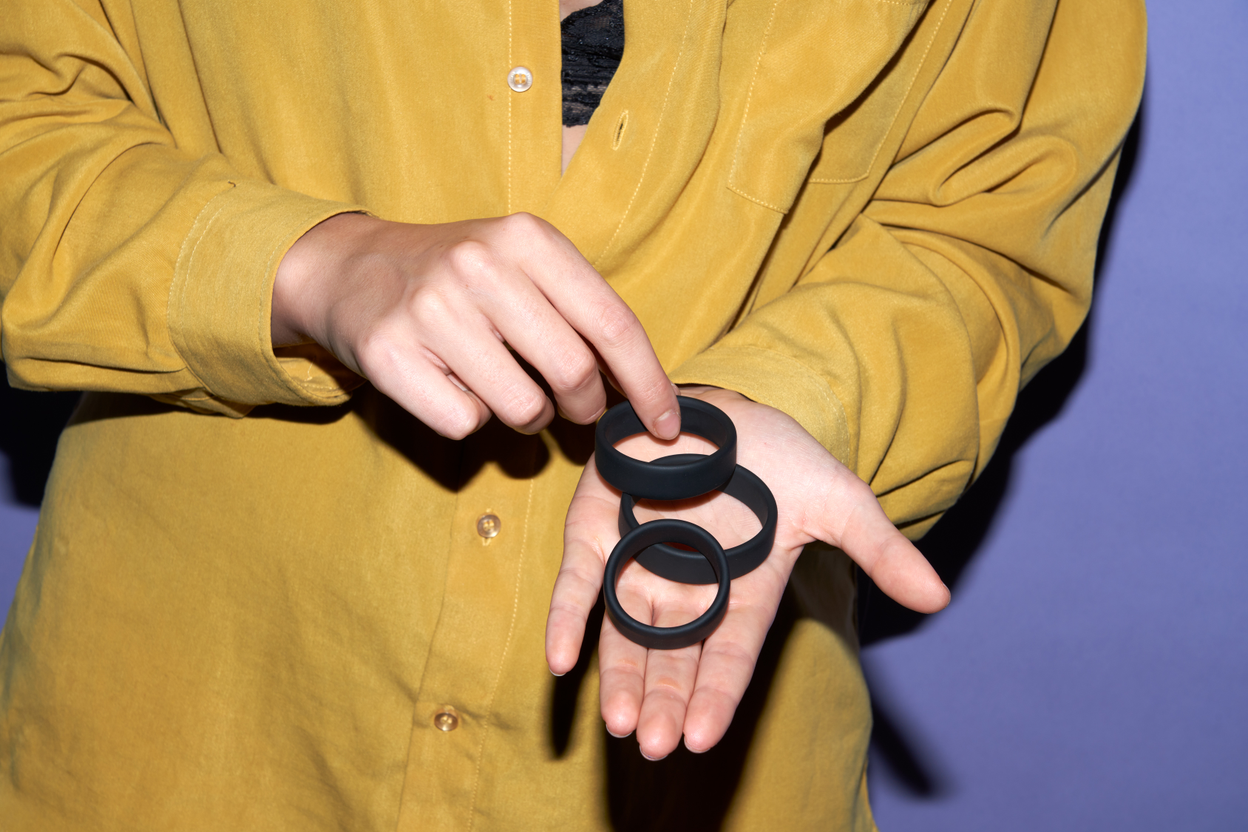 What kinds are there?
As we've mentioned multiple times, there are different types. It's worthwhile to consider what you will use before making your purchase. 
Will you use it alone or with a partner? What places do you want to be stimulated? What material do you prefer? Do you want it to sit around the balls and the shaft? 
Here you can read more about the different kinds to help find the right ring for your needs.
The flexible ones
Here, you get the obvious choice for both beginners and more experienced users. They're typically made of materials like silicone, TPE or TPR which makes them stretchy and remain comfortable against the skin. Flexible cock rings are easy to put on and take off, and they can also be used around the shaft and balls if you want to experiment.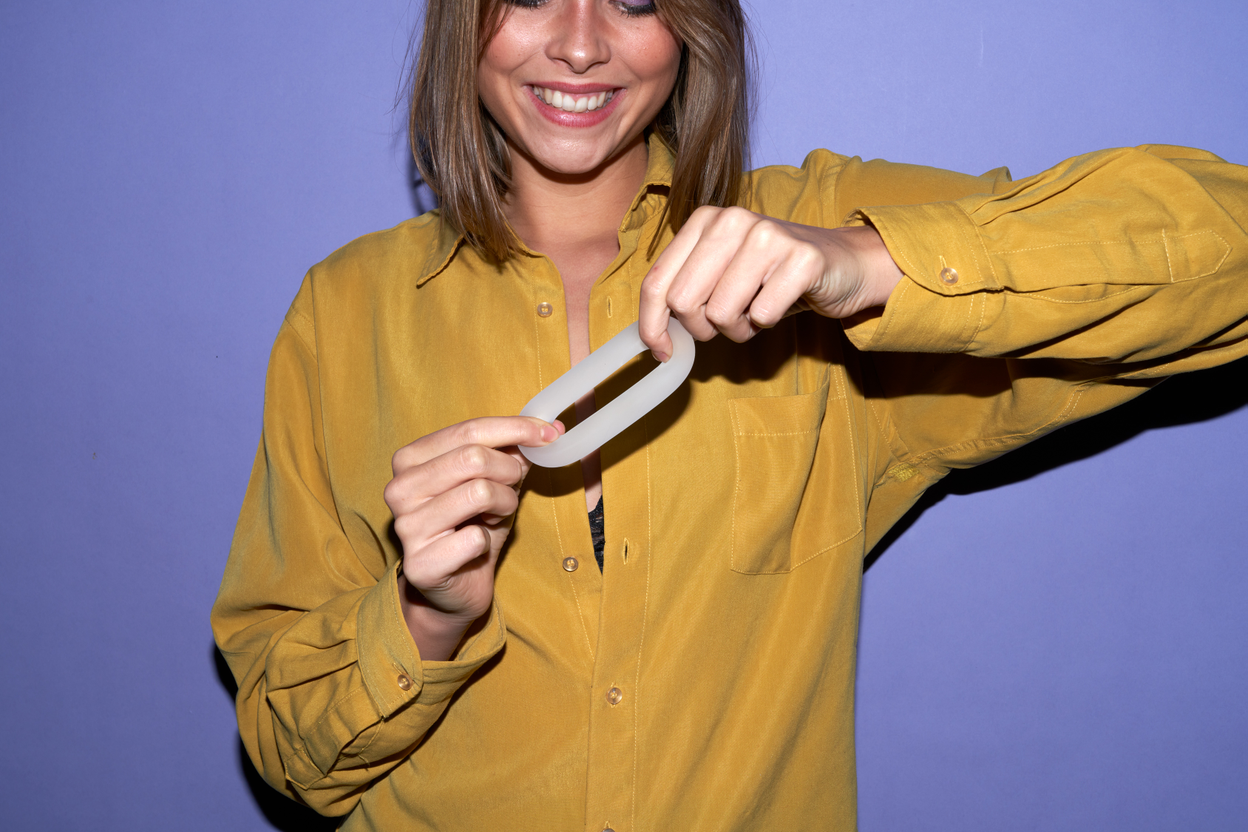 The adjustable ones
Adjustable cock rings are absolutely brilliant if you're a little unsure of how tight you'll want them. They can be in an elastic material but also in cheeky leather with rivets.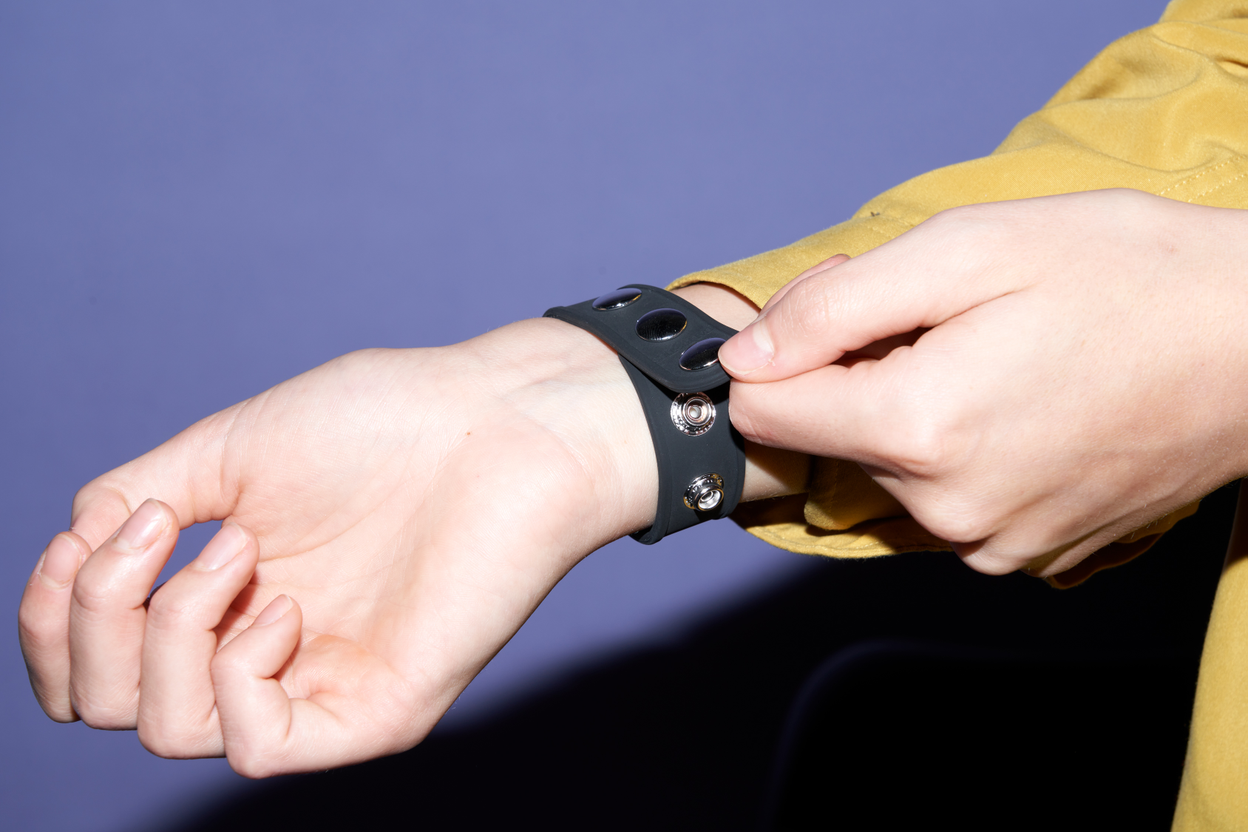 The vibrating ones
A vibrating cock ring is absolutely fantastic if you want to use it with a female partner. The ring will send vibrations to your shaft and her clitoris, so she's stimulated during intercourse. 
You can also turn a cock ring around and take full advantage of the vibrations yourself. You can find cock rings with disposable batteries that are perfect for beginners or one-night stands. They're also available with small bullet vibrators, which can be taken out of the ring and used for stimulation across the body. 
You can also get rechargeable cock rings which are usually of higher quality and offer stronger vibrations. Or how about a remote-controlled one so you or a partner can easily change intensities during play?
Let's not forget the icing on the cake, the We-Vibe Verge, which can be controlled by an app on your phone. Give it a try and find what suits you and your partner's needs best.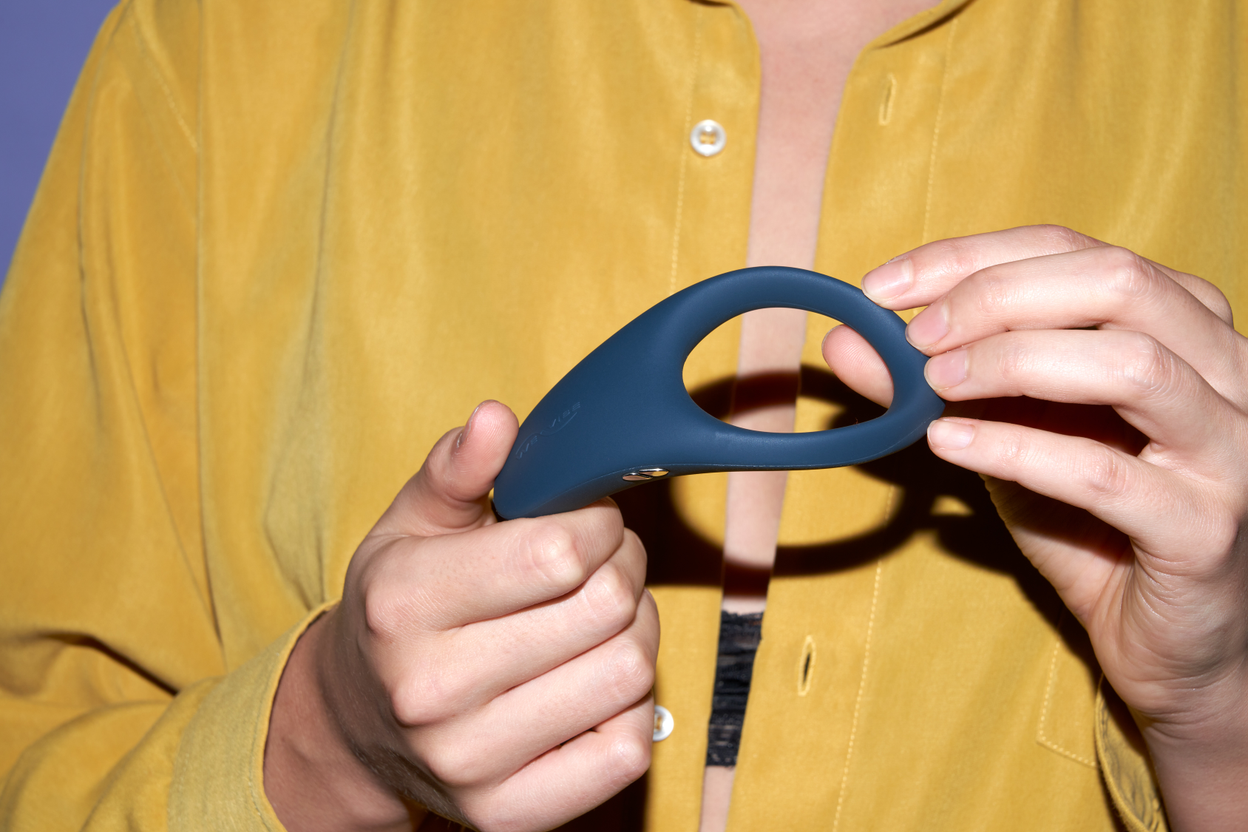 The metal edition 
A cock ring in metal not only gives you a tight feeling and a potent erection, it also gives a sleek and sexy look. Since metal doesn't have any give, it's best to have experience before jumping into this category. 
Use lube to put the metal cock ring on in a relaxed state, and only take it off again when you've ejaculated and your erection has subsided. Both for your sake and your dong's.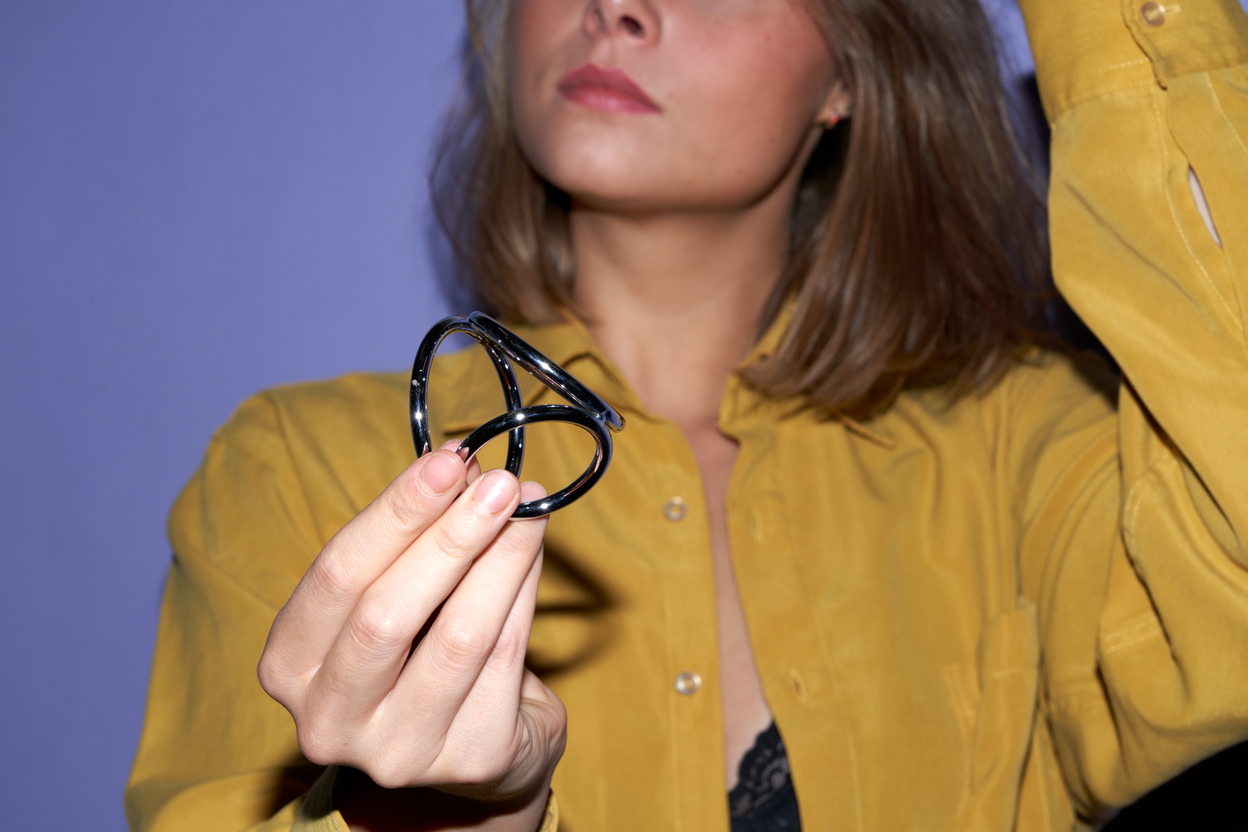 Buy a whole set
With a set of cock rings you don't just get the opportunity to find the right size, but you get to experiment with different combinations and placements. 
You can get sets in both stretchy materials and metal so there's something for everyone. Try to combine the rings by putting them on the base of your shaft, on your balls, or both. You can also find out which sizes are your best match.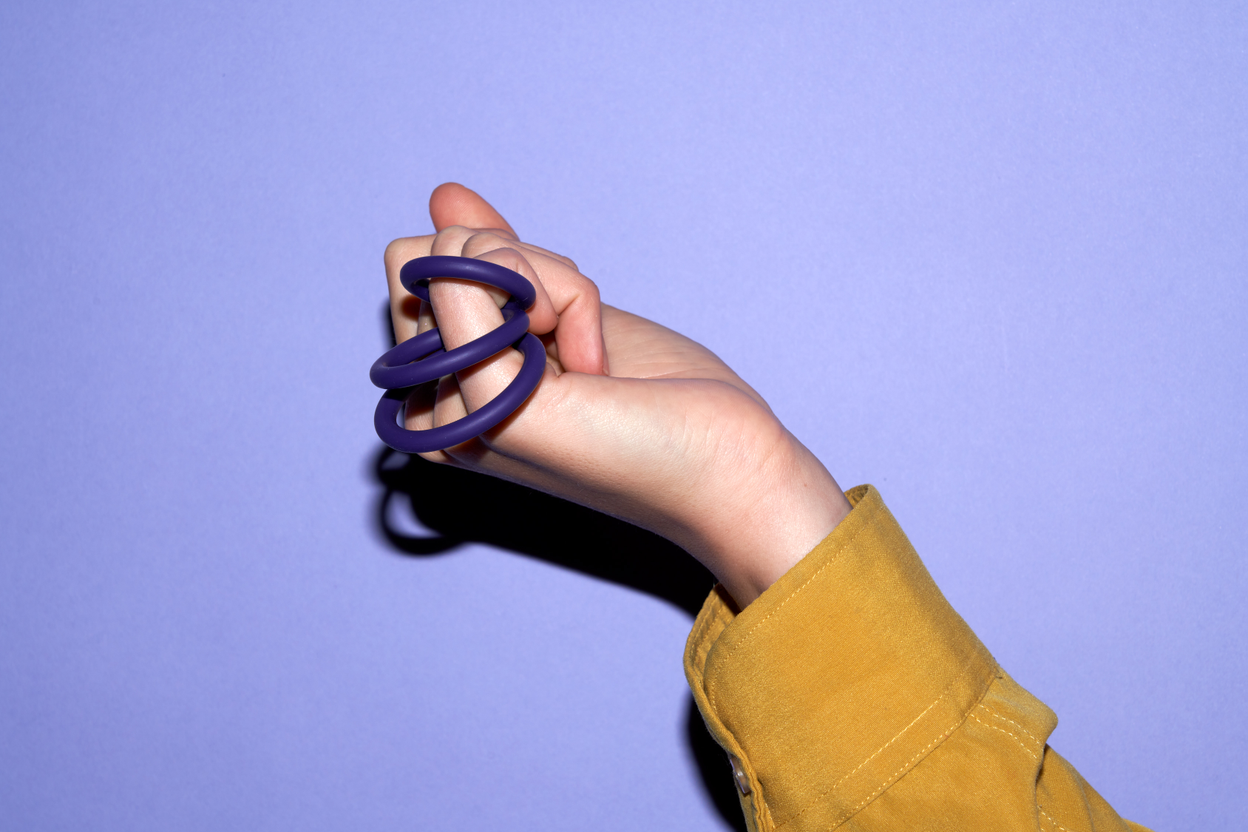 For the beginners
In this category, we've collected a bunch of different types of perfect for beginners. You'll find flexible models in both sets and with vibrators at an affordable price. See SinfuI's full selection of cock rings for beginners here.
For the shaft and balls
A cock ring for the penis and balls can look many different ways. It can be one cock ring which is put on both parts or it can be split into two so there is a ring for each. 
Some rings also have a ball spreader or ball stretcher so that your balls are separated or pulled down towards the sack. 
There is something for every taste and purpose.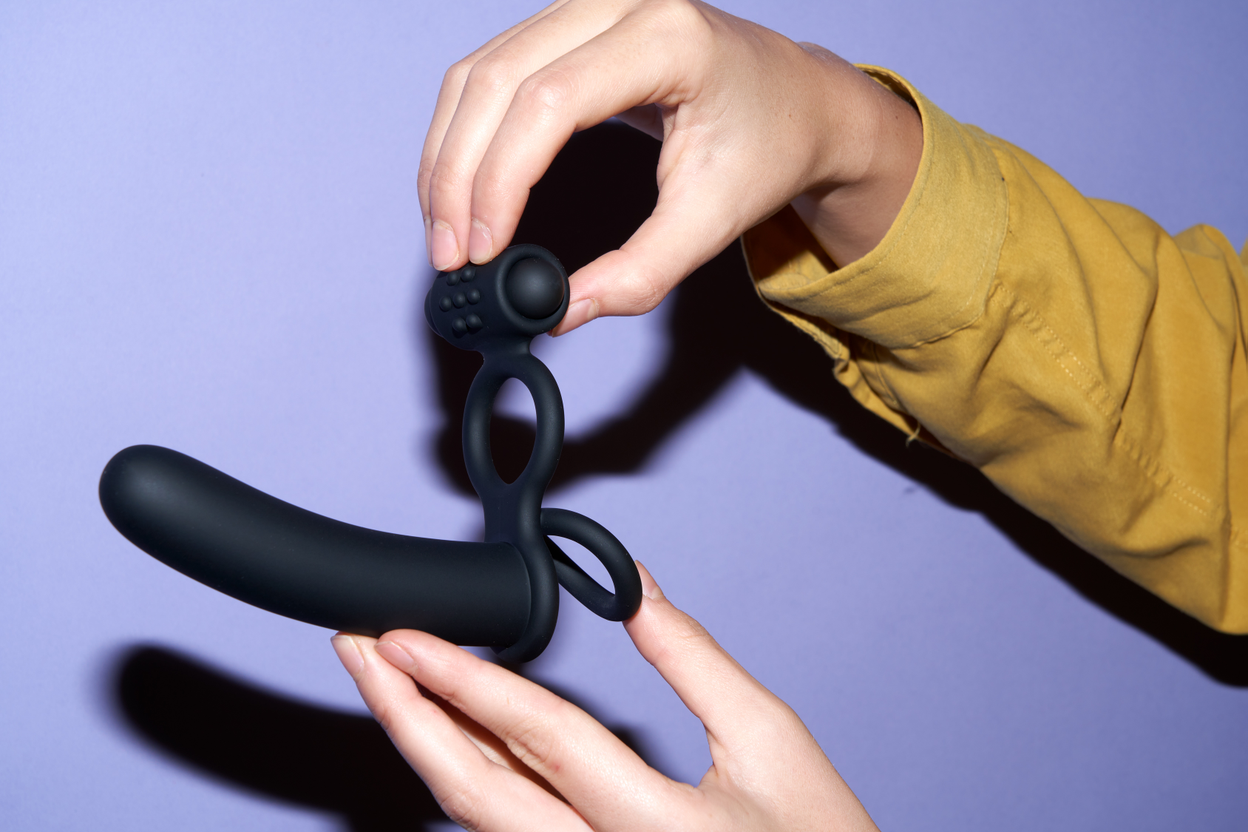 Sinful's ready to help you
Now it's up to you to explore the many different options and find the types that work wonders for both your and your partner's orgasms.  
What are you waiting for? 
If you need extra advice or guidance to make the right choice, you can always reach out to our awesome customer service. They are ready to help you.  
Have fun!