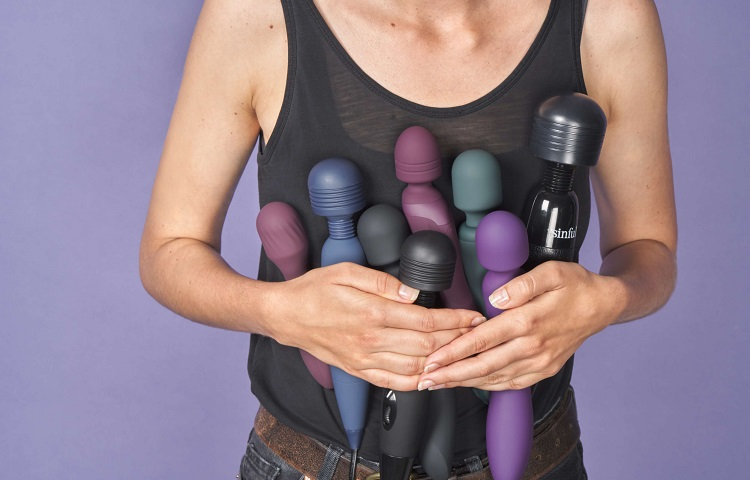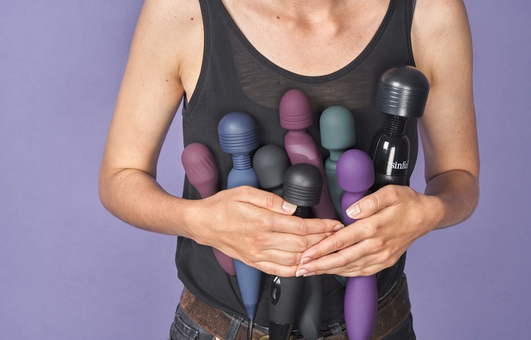 Magic Wand - The Ultimate Guide
A magic wand is an extremely powerful vibrator shaped just like a thick stick. Vibrations are measured in Rounds Per Minute (RPM), which refers to how many rotations it spins every sixty seconds. The typical RPM of a magic wand is between 6,000 and 12,000. For comparison, the average washing machine clocks in between 14,000 and 16,000 RPM.
The product is named for its wand-like appearance despite being somewhat chunkier than its namesake. The head is rounded or oval-shaped, and most wands measure between 20 to 30 cm.
The original concept was a massage device to relieve sore muscles, and so it made practical sense for the product to feature a relatively long shaft and a supple, flexible head for reaching those parts easily.
That idea has evolved over time, and nowadays, magic wand vibrators are also used to stimulate the body's external erogenous zones, and this naturally includes intimate areas.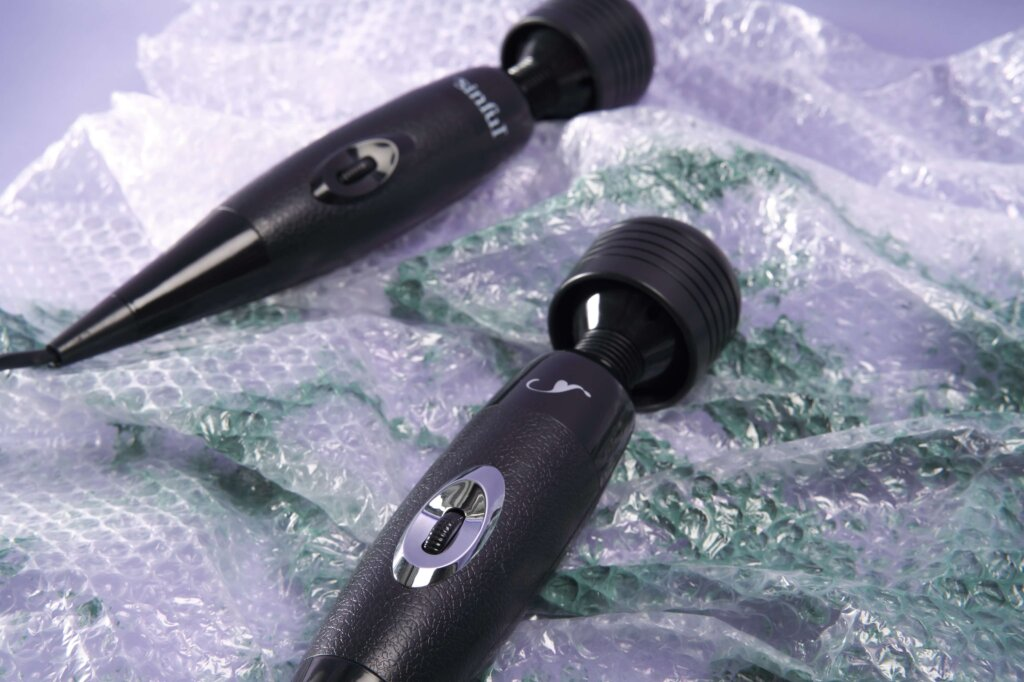 This was a development that proved quick to spread, and soon it was not just the design that was evolving, but also its functionality. Some models are made for spreading "double joy": the shaft can also be used for penetration, providing you with a spellbinding source of both internal and external stimulation.
Some wands are rechargeable, while others have a cord. There are mini versions and head accessories available, so you can always personalise your experience to suit your preferences. Whatever your taste, you can find a Wand ready to work some magic for you.
Tempted to jump right in? Well, bear with us! We'll get to the best magic wands in just a little bit.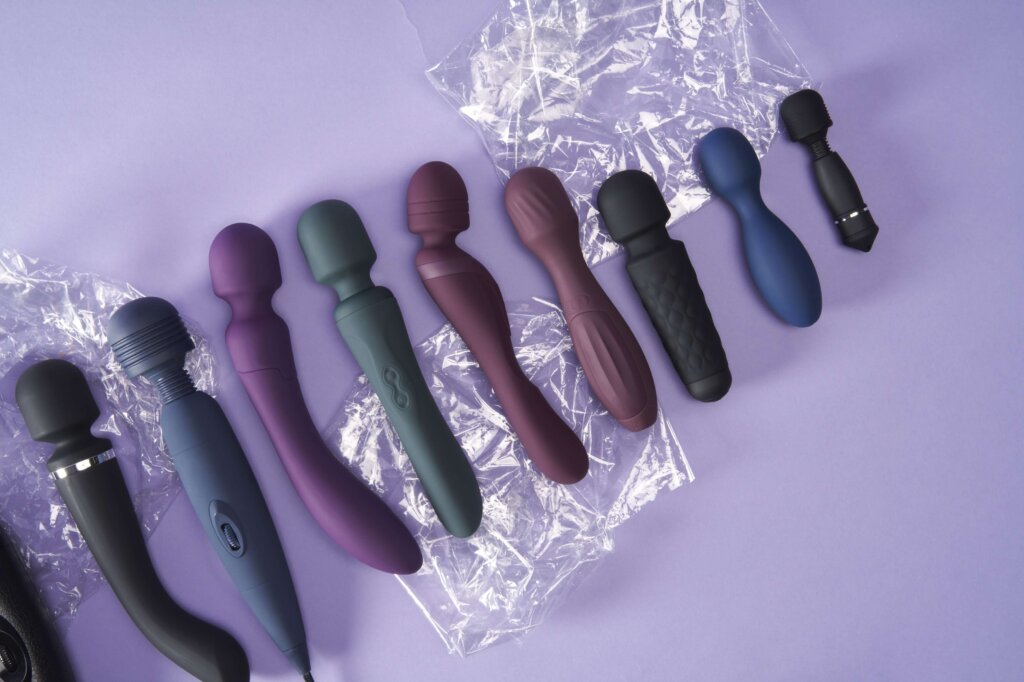 How to Use a Magic Wand?
There are many different ways to use a magic wand vibrator. For starters, you can use it as it was originally intended: on sore muscles and to massage the body. Alternatively, you can use it to caress your body's erogenous zones.
The most important thing is to switch on the vibrator before placing it anywhere on your body. Magic wand vibrators deliver extremely powerful vibrations, so it is important to first test them out on your forearm or somewhere similar before introducing the head to a more sensitive part of your body.
Once you feel like you have a sense for the settings, you'll want to get going right away. To help you enjoy the best possible experience, we've compiled a helpful little FAQ for you.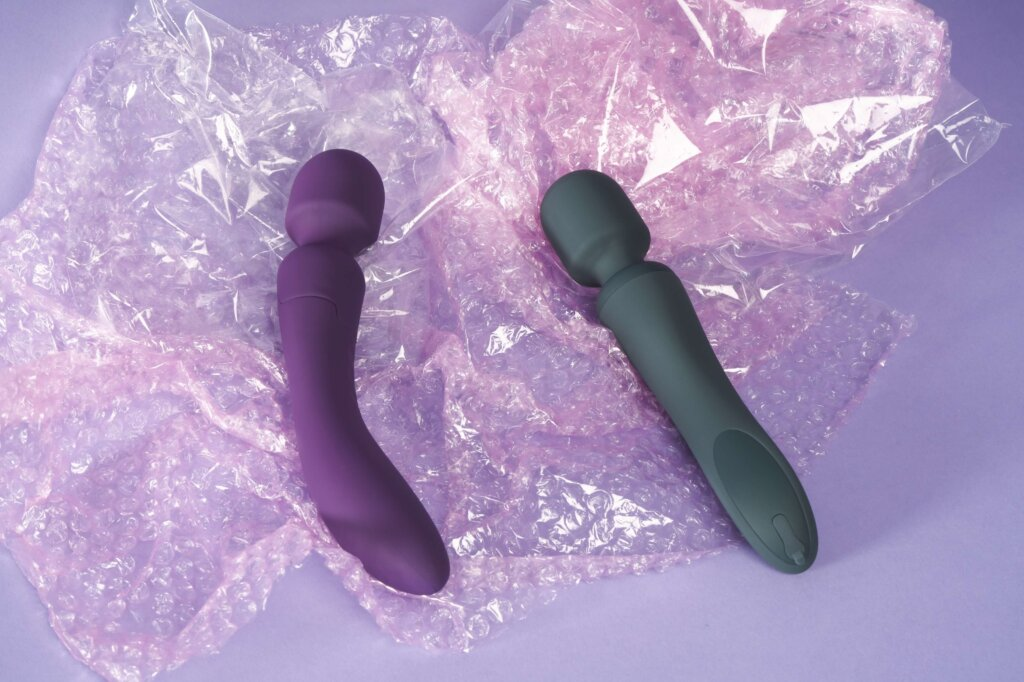 Everything You Need to Know About Magic Wands
Find the answers to all your questions, including the ones you haven't even thought to ask, right here. Once you've read through this section, you'll have all the basic knowledge you need to throw yourself into some deeply satisfying playtime.
Are they noisy?
What we consider to be too noisy is 100% a personal thing, but what we can say is this: it makes more noise than an electric car, but less than a Harley. The most powerful motors in the sex toy market are the ones you find in a magic wand, and so they are also louder than most other vibrators. But on the upside, your orgasms will almost certainly drown out the sound!
Is it not going to be too big?
Generally speaking, the size of a magic wand vibrator can seem intimidating, especially the first time you hold one in your hand.
The classic models are designed for external stimulation, so the number of centimetres is not as important as it would be when shopping for a dildo. If you prefer a larger contact surface, then you should pick a wand with a large head. Alternatively, pick a smaller diameter for more targeted stimulation.
The neck is often flexible, so you can twist and turn the head to reach that sweet spot right where it feels best, while the shaft itself ensures a good grip.
A good idea is to ease yourself in with a smaller model, such as this popular model from Amaysin. That way, you can sense both how it feels to use and for how to use it best.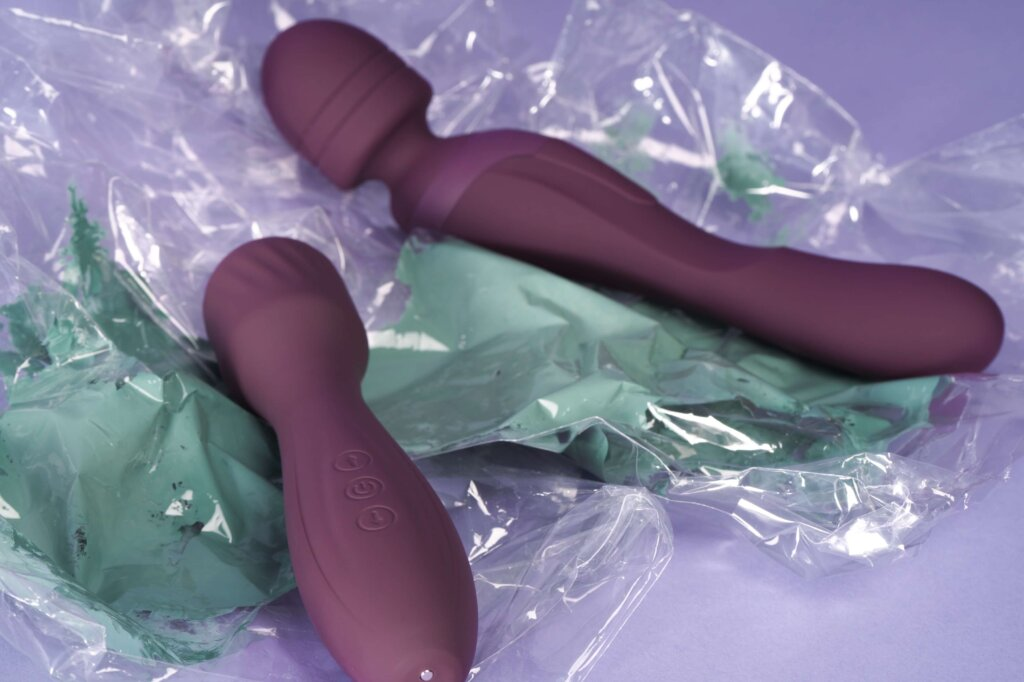 Can it be used for both internal and external stimulation?
As we mentioned briefly, there are magic wand vibrators on the market with shafts designed for penetration. Plus there are also accessories available that will transform your magic wand into a G-spot vibrator, a butt plug or something else altogether - but more on that delicious thought in just a bit.
If it's a double vibrator you're after, scan for names which contain words that indicate more than one function such as "duo" or "double". A product's features and functions will always be described in our product texts so you can find out if the wand also doubles as an internal vibrator.
What's best: batteries, rechargeable or cord?
It all depends on your needs. Battery-powered magic wands are a great choice if you want vibrations that are somewhat gentler and if you aren't really planning any marathon sessions.
Rechargeable ones can be used any time, any place and deliver somewhat more powerful vibrations than their battery-powered peers.
If you want full-throttle vibrations and endless time to caress and pleasure yourself free from time pressure, then opt for a corded model. The most powerful magic wands on the market are generally mains-powered, which means that cords often go hand in hand with a higher RPM.
Will the cord be long enough for me to use it properly?
Yes, most come with a long cord. If you want to be absolutely sure you'll be lying comfortably, rather than halfway out onto the bedroom floor, then the best advice we can give you is to check the measurements before ordering your new best friend.
Can they be used during foreplay and sex?
YES! In fact, we would highly recommend it. The easiest option is to use a rechargeable Magic Want for sex, that way you won't get all tangled up in the cord. Try it out in the missionary position or doggy style so you can both enjoy the vibrations.
Can men use a magic wand?
Again, caps required: YES! The deep, rumbling vibrations feel fantastic against the perineum or the shaft of the penis. Throw in a healthy dose of patience and caution, and you can even explore how it feels to use its mellower vibrations on the testicles and the head of the penis.
Congratulations, you are now fully qualified to take one of these powerful vibrators in hand. That means the time has come to explore the various models so you can decide which one you want to dive under the covers with.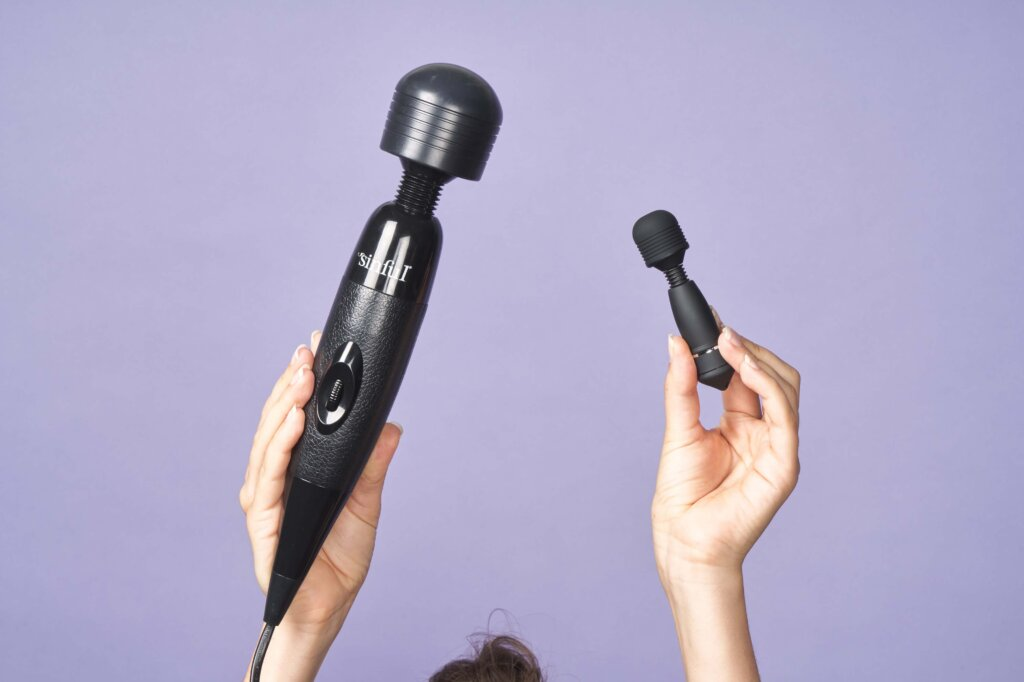 Best Magic Wand for You?
Naturally, it's important to know which models are best suited to your needs. That's why we have put together a handy and comprehensible rundown to help you find your next bedmate.
The Powerful: Sinful Luxy
This magic wand is absolutely in the big-boy league with a whopping length of 30.5 cm and a head measuring 5.5 cm in diameter. That means it hits a wide surface area, sending rumbling vibrations through your entire body. Given its power, it is best suited for users with prior experience in this type of sex toy.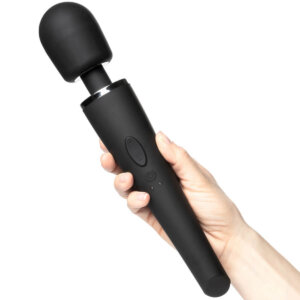 The Most Popular: Sinful Magic Wand
Our most popular magic wand is mains-powered, boasts an RPM of 7,000 and features multispeed vibrations. Not to mention a flexible neck which lets you bend it to your will. In other words, a classic model that's well suited for both massages and masturbation. Take a look at its many customer reviews to find out whether it's the one for you.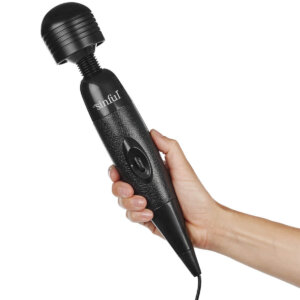 The One with More Features: Sinful Curvy Double Pleasure
This model gives you extra options as it can be used both for penetration and to caress the clitoral area.
The shaft itself is ergonomically designed to reach the G-spot, and with two motors, you'll get the full experience no matter which end you feel like using.
The Rechargeable: Amaysin Duo
If you want the full technicolour experience, look no further than the Amaysin Duo! This double magic wand can be used to caress the G-spot during penetration and to pleasure the clitoral area with its flexible head. It is also rechargeable, which means no battling with unruly cords or any inconvenience of dead batteries.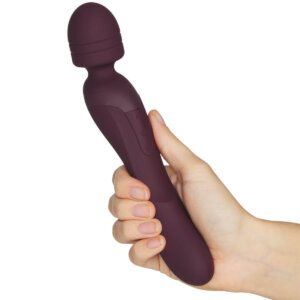 Five Ways to Use Your Magic Wand Vibrator
You and your magic wand are going to enjoy many wonderful adventures together, but before we embark, there's just a few final things you ought to know that may just help to make your experience even better.
The golden rule and something which you should always, always remember: start the wand on its lowest speed setting and test it on your forearm or similar before using it in more intimate places. With such powerful revs at your disposal, your pleasure may turn into regret if the speed is set too high.
And now on to those magical methods:
Massage
As we mentioned earlier, the magic wand vibrator was originally developed for rigorous body massages. Thankfully, it is still great for that very purpose no matter where you buy it.
Use it on different parts of the body
Once you're going, remember to take it for a whirl over your nipples, perineum, butt and the many other erogenous zones on your body.
Experiment with different materials
If you like to take your time and savour the moment, then one idea is to bring different materials into play. With such powerful vibrations, you can use your magic wand vibrator over your underwear, put a sheet in between or experiment with something else altogether – perhaps silk or satin. Avoid anything with coarse fibres, like a towel, as you might find the sensation more scratchy than pleasurable.
Can also be enjoyed by men
This glorious contraption can work its magic on men, too! Start at the lowest speed, move it gently over the shaft, the frenulum, around the perineum and set those rumbling vibrations in motion.
Use it during foreplay and sex
As you may have already guessed, this product is made for self-indulgence, but there's no reason not to share the joy. Use it as a part of your foreplay and to help unleash your urges ahead of the main event.
Magic Wand Accessories
A magic wand can also be conjured into something else thanks to the many different accessories available. A head is a type of accessory which you can attach to your favourite model to give it a whole new dimension. Like the classic magician's trick, you can also transform it into a mini rabbit vibrator, use it in your anal play or experiment with grooves. There are many options available, so there will doubtless be one for you.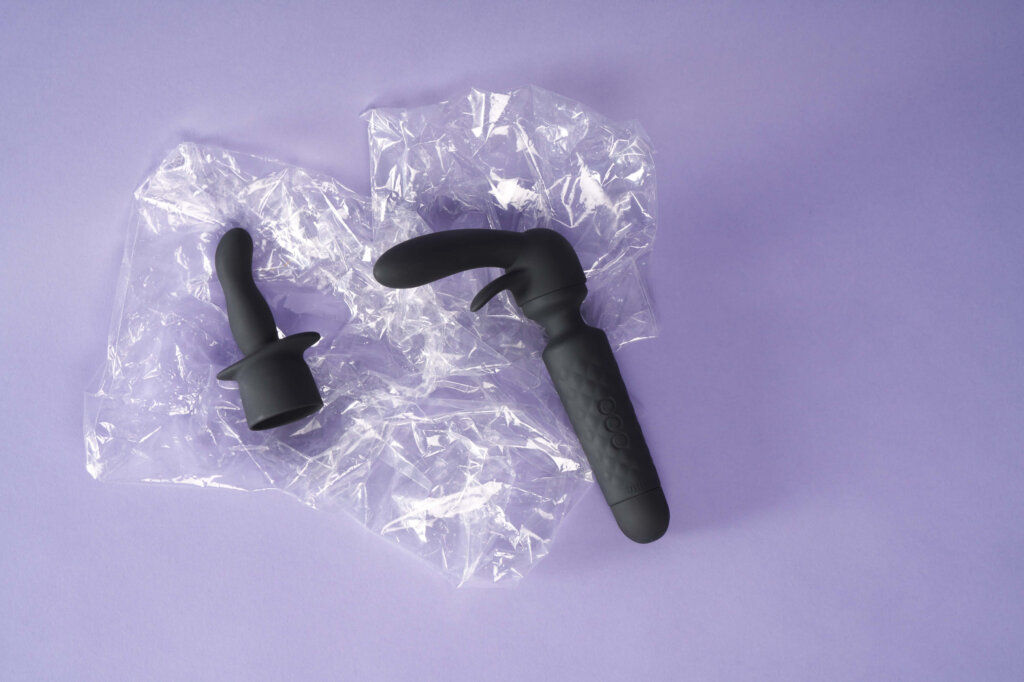 Magic Wand Reviews
At this stage, you will no doubt realise that we're totally under the spell of the magic wand. But we aren't the only ones, and you will find no shortage of reviews and praise from our customers under each product.
But otherwise, dear reader, the time has now come to take your wand in hand and start casting spell after spell. Enjoy!
Related blog posts