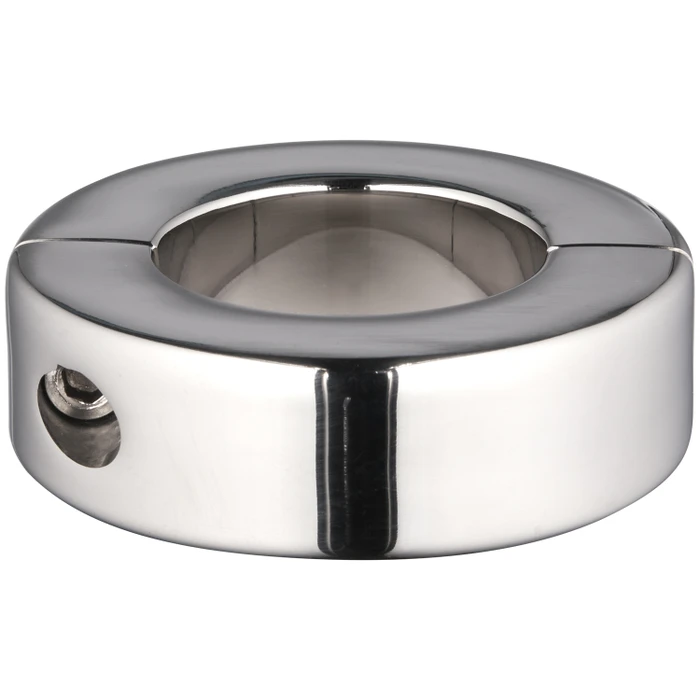 Ball Stretcher in Steel
In stock
Delivery 3-6 days

Sinful Aqua Water-based Lube 100 ml

Sinful Clean Sex Toy Cleaner 100 ml
Choose Insertable Length (cm)
Overview
This Ball Stretcher in steel can, based on its weight and height really be felt.
Place it around the balls and notice how it stretches down a level.
The stretcher is manufactured from a robust steel, and clasps closed and opens with the included hex key.
This Ball Stretcher comes in 3 different sizes (height) all depending on how much you want to stretch your balls. The 3 different heights on these Ball Stretchers are 20, 30 and 40 mm. 
Brand
Kiotos
Sub Brand
Steel
Product Weight (g)
300
Full Length (in)
0.79
Inner Depth (in)
0.79
Diameter (in)
2.36
Inner Diameter (in)
1.38
Stretchable Inner Diameter
Yes
Size
S
Primary material
Stainless Steel
Colour
Silver
Recommended Lube
All types
Language
English
SKU
13105
Customer reviews (0)
Sublime quality
I am new to using Stretchers and I chose a 20mm and a 30mm. And I am really surprised at how great the quality is and how comfortable it is to wear. And I have ...

Read more
Krede.K - 9. jun. 2021
Great product - A "must have"
I chose to buy all 3 sizes and I do not regret my choice at all. It is really great quality and easy to use and it gives a really nice feeling. Almost as if "s...

Read more
JK - 30. sep. 2020
20 mm
Beginners and bought the smallest. Wear it often. Fits nicely but could have been a few millimetres larger in inner diameter. The weight is kinky and cool!
Zeb - 9. may. 2021
Extremely nice
Bought a 40mm high comfortable island to wear. Had it all weekend, got a little abrasion but otherwise nice island. Wish you could find the same model with even...

Read more
Finn - 23. feb. 2021
Ball Stretcher 30mm
I chose 30mm and it was the right choice for me. It is a little difficult to put on but once in place it fits perfectly. Beautiful weight to walk around with. U...

Read more
Peter - 20. oct. 2020
Benefits