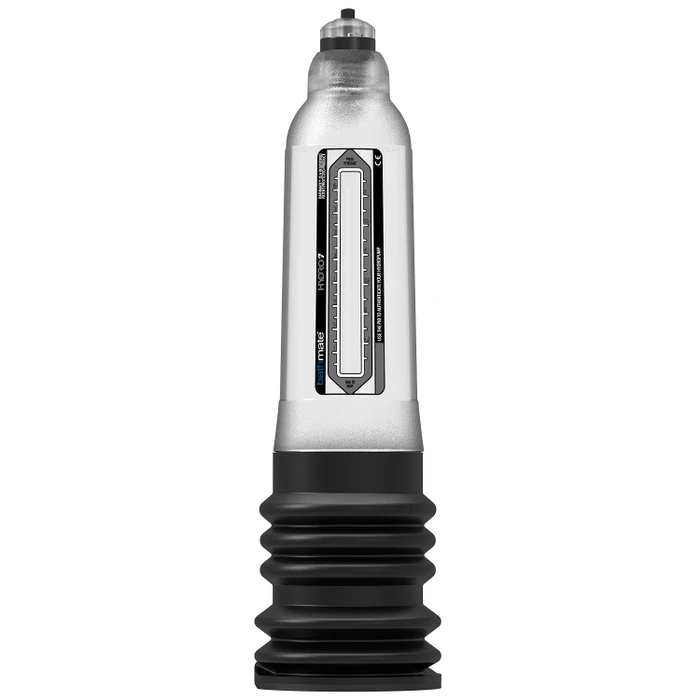 Bathmate Hydro7 Penis Pump
In stock
Delivery 3-6 days

Sinful Aqua Water-based Lube 100 ml

Sinful Clean Sex Toy Cleaner 100 ml

Sinful Cock Ring Set 3 pcs
Overview
The Bathmate Hydro7 Penis Pump is designed to increase the size of your penis.
In comparison to a normal penis pump, the Bathmate Hydro7 can form a much larger vacuum around the penis as it is used in water.
How to use a Bathmate Hydro7 Penis Pump: - Fill up your Bathmate with water from the shower or bath tub. - Put your hand under the bottom of your Bathmate so that the water does not flow out of the valve. - Place your penis in the Bathmate and press it towards your body to create a vacuum. - Release the grip once you feel that there is sufficient vacuum and continue your shower. - Pump again if you feel the vacuum loosening. - After approx.15 minutes, press on the air-escape valve, and it will release from your penis.
Note! It is not possible to achieve a permanent enlargement of the penis with a penis pump, but if you use it often, and for example before sex, you will experience a good effect. Many men also achieve a more intense sensation during masturbation or intercourse after using the penis pump.
Brand
Bathmate
Product Weight (g)
418
Inner Depth (in)
7.4 | 9.8
Inner Diameter (in)
2.2
Circumference (in)
7
Primary material
PC (Polycarbonate)
Colour
Clear
Recommended Lube
Water based
Language
German, Spanish, French, Portuguese, Russian, Italian, Chinese, English, Japanese
SKU
11303
Customer reviews (0)
Not very good
I do not think the product works as I had hoped. Does not seem to give any better result than if I just look at .... Also did not find it particularly comforta...

Read more
Christian - 13. jul. 2020
Too hard
I opened the package and tried rubber how much it could give and it was way too hard. Already there I was disappointed and asked to change the product, but I co...

Read more
Pjok - 23. feb. 2020
Absolutely amazing
Have always had a small penis, both short and thin, but after I bought this pump my sex life has turned upside down completely. I now manage to give my girlfrie...

Read more
Fendt - 19. jul. 2020
NOTE that the effect is NOT permanent!
Just want to clarify; The effect is NOT permanent, even though the comments seem to indicate it is. Penis pumps have always given and will always give only a te...

Read more
Daniel - 7. mar. 2020
Excellent!
Used it for about 2 weeks and am completely satisfied. Would, however, buy a slightly larger pump as I almost "bottom". Otherwise an amazing pump :)
Timpa - 27. jan. 2020
Benefits