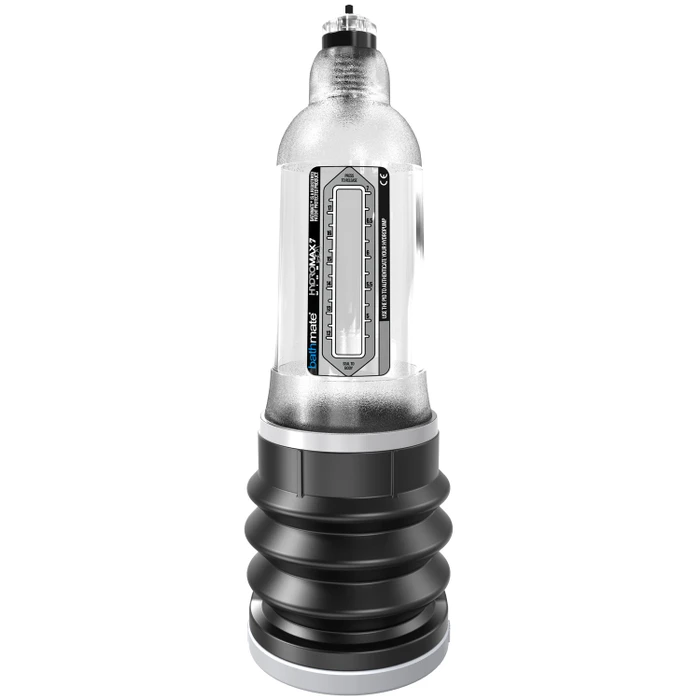 Bathmate Hydromax7 Wide Boy
In stock
Delivery 3-6 days

Sinful Aqua Water-based Lube 100 ml

Sinful Clean Sex Toy Cleaner 100 ml

Sinful Cock Ring Set 3 pcs

Bathmate Control Delay Cream 7 ml

Bathmate HydroVibe Penis Pump Accessories
Overview
Do you want the best value for your money when it comes to increasing the circumference of your penis? Then the Bathmate Hydromax7 Wide Boy is the answer.
Your penis has more potential to increase in circumference than in length, and many experience growing too wide for their other penis pump, without being able to utilise the extra length. Here the Wide Boy is ideal, as there is lots of space to grow in width.
Hydromax is used in water where the combination of vacuum and water pressure creates a temporary penis enlargement
How to use the Bathmate Hydromax7 Wide Boy Penis Pump: - Make sure the soft ring at the lowest part of the pump is firmly attached to the pump. - Put the small grey tip at the end of the pump in locked position and fill the pump with water. - While in the shower, relax and place the pump around your penis. - With the pump in an upward facing angle, unlock the grey tip and start with pumping. - Pump until the lower black part of the pump is so compressed that you are unable to continue pumping. - For the best result, release pressure after a couple of minutes and repeat the whole process 2–3 times during a 10–15 minute period.  
Note! It's not possible to create a permanent enlargement of a penis with a penis pump, but if you use it often and, for instance, before sex, you will experience a good effect. Many men also achieve a more intense sensation during masturbation and sexual intercourse after using the penis pump.
Brand
Bathmate
Product Weight (g)
433
Insertable Length (in)
7.5
Inner Depth (in)
9.8
Inner Diameter (in)
2.4
Primary material
PC (Polycarbonate)
Colour
Clear
Recommended Lube
Water based
Language
Chinese, Spanish, English, Japanese, Italian, French, Russian, German, Portuguese
SKU
19558
Customer reviews (0)
Bathmate Hydromax X30 Wide Boy
I received the product very quickly in a discreet package. The product works just the way I wanted it, I can make my penis thicker whenever I want some variatio...

Read more
Pumpithuge - 16. dec. 2018
Benefits