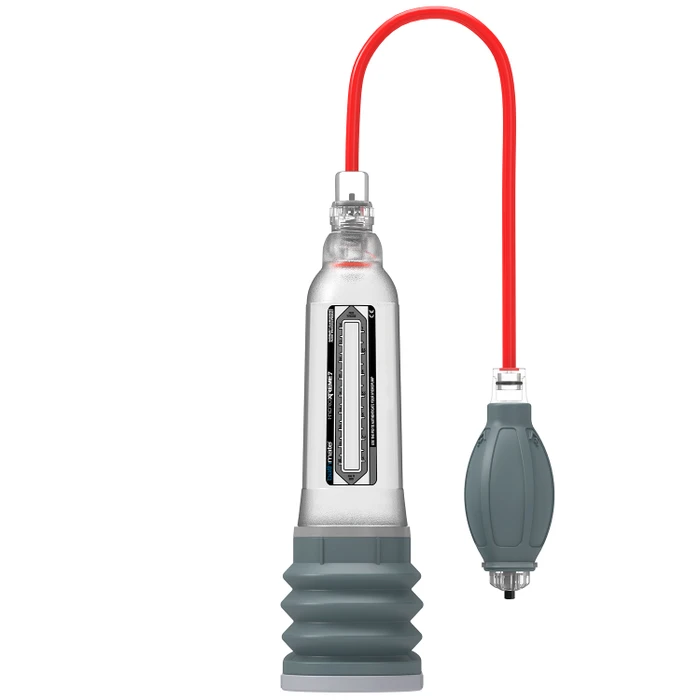 Bathmate HydroXtreme7 Penis Pump
In stock
Delivery 3-6 days

Sinful Aqua Water-based Lube 100 ml

Sinful Clean Sex Toy Cleaner 100 ml

Sinful Cock Ring Set 3 pcs

Bathmate HydroVibe Penis Pump Accessories
Overview
Bathmate HydroXtreme7 is a powerful upgrade on the popular Hydromax7 penis pump, which you can also find here in the Sinful.co.uk shop.  The biggest difference with the Bathmate HydroXtreme7 is you can get more out of your pump's power. With the new hand pump and hose you no longer need to squeeze the penis pump against the crotch to make it air-tight and create vacuum. This means the pump is even easier and more comfortable to use than its predecessors.
Bathmate HydroXtreme7 is intended to be used in the bath and it is designed to use water to create the vacuum, which increases the size of your penis temporarily. Because of the water pressure that is created in the pump, Bathmate pumps create a far greater and more even vacuum around the penis, than a regular penis pump which uses air pressure.
HydroXtreme7 can, like the other Hydromax pumps, create a more effective and 35% greater vacuum than Bath-mates' own Hydro7 penis pumps. The increased efficiency is due to, among other things, the comfort ring that sits at the bottom of the pump, which ensures that the pump sits really close to the body. The ring also helps the pumps feel more comfortable and makes it easier when positioning it at the right angle. 
Many men achieve a more intense sensation when masturbating or playing with a partner after using a penis pump. NOTE! The pump fits on a penis size of max. 2 inches in diameter and max. 7 inches in the length.
How to use a Bathmate HydroXtreme7 Penis Pump: 1. Immerse yourself in water and turn the valve clockwise so that it sits in the pump tip. Press down the tip so that the valve locks. 
2. Insert the light grey comfort ring in the pump's opening so that the markings on both the comfort ring and the pump stand are aligned. 
3. Fill the HydroXtreme7 to the brim with water, place the relaxed penis inside, so that the pump sits close to the body, while allowing the scrotum to sit on the outside.
4. Elevate the pump so that it is easily manipulated and pump it slowly up and down to evacuate water through the tip and create vacuum around the penis until you achieve a full erection. For extra control, increased power and to intensify the experience you can use the hand pump instead, either directly on the penis pump or with the hose. The exercise can be repeated in order to give your penis a good work out. NOTE! The pump should not be used more than 15 minutes at a time.
5. Clean the HydroXtreme7 after use with the cleaning sponge provided in the pack, warm water and a sex toy cleaner.
Brand
Bathmate
Product Weight (g)
323
Included
Storage Box, Pump, Shower strap, Cleaning accessory, Measuring tape, Padlock, Lubricant, Towel
Full Length (in)
9.76
Inner Depth (in)
9.76
Inner Diameter (in)
2.24
Circumference (in)
7.05
Primary material
PC (Polycarbonate)
Colour
Clear
Recommended Lube
Water based
Language
Portuguese, English, Italian, Russian, Spanish, Japanese, Chinese, German, French
SKU
13669
Customer reviews (0)
awesome result
It works wonderfully. I have pumped every single day since I got it. The results are awesome. I would highly recommend this pump
Anders - 17. oct. 2020
awesome result
It works amazingly well. The penis swells up enormously
Anders - 16. oct. 2020
Miserable - impossible to pump up manually
Impossible to pump up. Extremely hard rubber pump, after countless pumps there is still no vacuum and the hand is completely cramped by over-exertion. Used cor...

Read more
Kristian - 3. may. 2021
Fantastic experience
Have used pumps from Bathmate for over 5 years. Use it almost daily. Have almost become addicted to using the pump. One of the best I have bought. My penis has...

Read more
The pump boy - 17. jan. 2021
requires some practice
This is the first time I buy a penis pump. Bathmate HydroXtreme is definitely solidly built and was sent in a very discreet way - really appreciate it! The i...

Read more
playful - 20. oct. 2020
Benefits