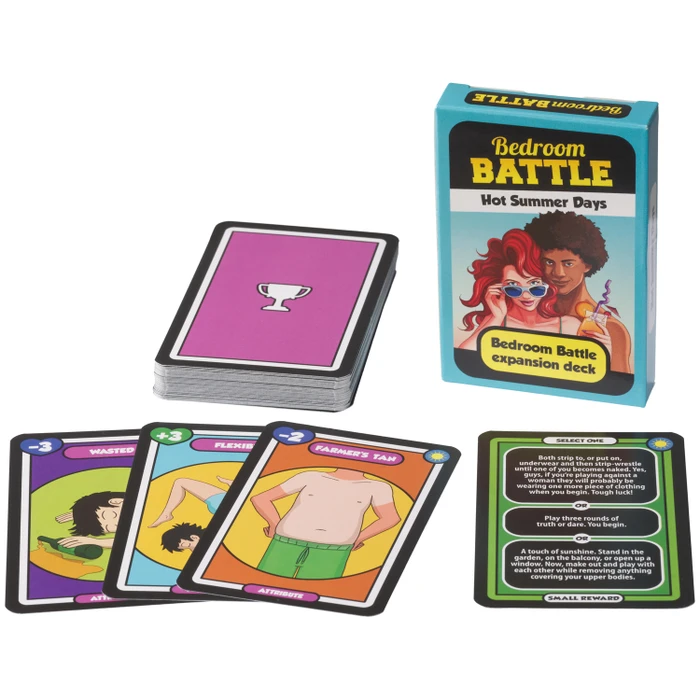 Bedroom Battle Hot Summer Days Expansion Pack
In stock
Delivery 3-6 days
Overview
Turn your bedroom into a naughty battlefield with Bedroom Battle Hot Summer Days expansion pack. Providing summer-themed battle cards and reward cards to the Bedroom Battle deck, these challenges will add a playful touchto your hot summer days.
You play to win and might just enjoy losing as well. Use battle cards to win reward cards with oh-so-sexy challenges, ranging from mild skinny-dipping plans to hotter dares like seeing who can go the furthest from your front door without any clothes on - with the winner earning three minutes of oral sex.
Strategise to win the challenges you most want to act out, and enjoy the give and take of the game. The player with the most reward cards by the end wins and gets to choose a final sexy dare to end the game.
Want a quickie or an all-night marathon? The game can be tailored to the mood of the night, and how quickly you want things to heat up.
NOTE: This is not a stand-alone game, as you will need the Bedroom Battle base game to play.
Brand
Tingletouch Games
Product Weight (g)
68
Included
Cards, Instructions
Full Length (in)
3.54
Width (in)
2.36
Colour
Mixed colours
Language
English
SKU
26490
No one has reviewed this product yet.
Benefits