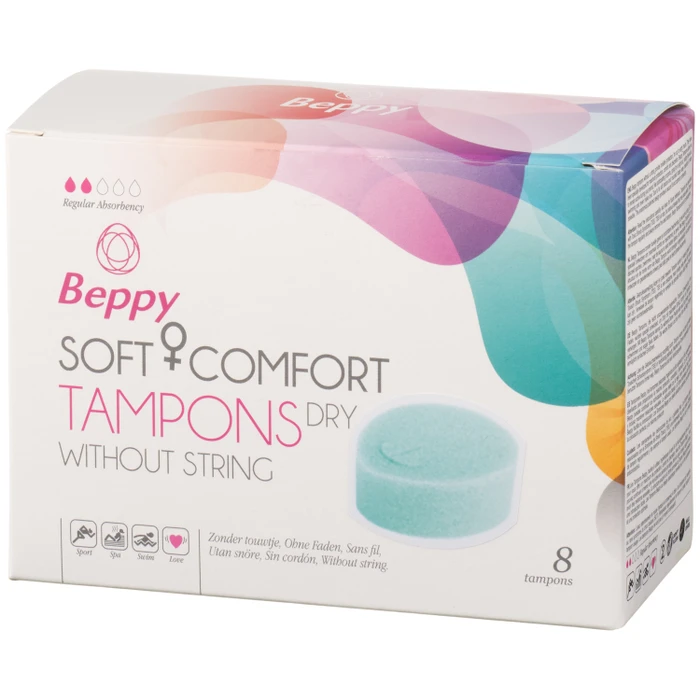 Beppy Soft + Comfort Tampons Dry 8 pcs
In stock
Delivery 3-6 days
Overview
Beppy Dry Comfort is a smart and comfortable alternative to tampons for "that time of the month". It is a small, soft pink tampon, which is 2 inches long and 1 inch high. The soft sponge-material makes it easy to insert up, because it adapts to the inner anatomy. It is developd by a team of gynaecologists, who focused on the special form of sponges.
Beppy tampons are designed for women who wish to have complete freedom of movement during travelling, sport, swimming and ever during sex. The sponge has a good absorbency, ensuring that you stay clean and dry when you use it.
Beppy tampons are single-use products. You can use it for between 4-8 hours, all depending on how heavy your flow is. The tampons are also available in a "wet" version, where the sponge has added vaginal intimate cream. Try both versions and find out which type best suits your needs.
Note! Beppy does not recommend having sex if your partner is very long, as the sponge will get pushed far back in the vagina.
How to use a Beppy tampon: 1. Wash your hands thoroughly. 2. Remove the sponge from it's packaging. You could wet it or apply a little lubricant before insertion. 3. Take it between your thumb and index finger, and press together. 4. It is easiest to insert up if you stand up with one leg on a, for eg. chair. 5. Use your other hand to "open", and insert the sponge as hig hup as you can. 6. When you want to remove the sponge you use the same procedure. It may be helpful to wash yourself and get the sponge wet again for easier removal. 7. The sponge may not be thrown away in the toilet.
Brand
Beppy
Full Length (in)
1.18
Insertable Length (in)
1.18
Diameter (in)
1.97
Quantity
8
Primary material
Polyurethane
Colour
Blue
Recommended Lube
Water based
Language
English, French, German, Spanish, Dutch
SKU
12936
Customer reviews (0)
Cannot live without
They work They are soft, so the man does not feel anything, and therefore you do not have to think about anything other than just enjoying each other. I have no...

Read more
PU - 22. jun. 2016
Ingenious but cumbersome
I was recommended these tampons by a friend and after reading the reviews here I had to try them. They sounded a little too good to be true, so I was very excit...

Read more
T. - 31. jul. 2013
Optimal
Why this is not a product that can be bought in a grocery store / chemist's is a mystery to me, as it will make life, especially during menstruation, so much ea...

Read more
NH - 17. feb. 2013
Clear recommendation!
I had gotten a new men's acquaintance and due to full calendars we had agreed on a date 5 days in the future. This of course means that we really put in the til...

Read more
Iben - 26. nov. 2012
Benefits