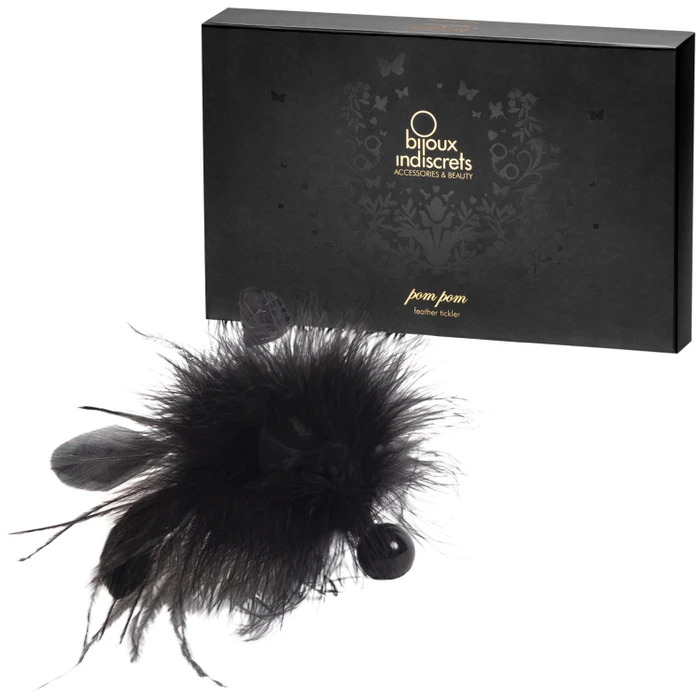 Bijoux Pom Pom Feather Tickler
In stock
Delivery 3-6 days
Sinful Deluxe Satin Blindfold

Sinful Deluxe Satin Ribbon Restraints
Overview
The Pom Pom is an elegant feather bouquet from Bijoux Indiscrets. The small feahter tickler is made from the most delicate marabou feathers, which are very soft and ideal for caressing and titillating your partner.
Seduce your woman with a Pom Pom feather tickler and finish off with a warm and sexy massage.
The feather tickler has a nice little handle that makes it easy to control your gentle strokes.
Brand
Bijoux Indiscrets
Product Weight (g)
8
Full Length (in)
2.76
Primary material
Feather
Colour
Black
Language
Chinese, English, French, German, Spanish, Italian, Russian, Dutch, Portuguese, Arabic
SKU
10021
Customer reviews (0)
Nice addition
Tickling pleasure. Relaxing and tasteful. The clamp could be longer. Comfortable and appropriately sized tickler, feels lovely on the skin.
Pari - 7. dec. 2018
A nice addition to the foreplay
The holder part could be a little bigger, otherwise good!
Ella - 6. feb. 2018
Benefits