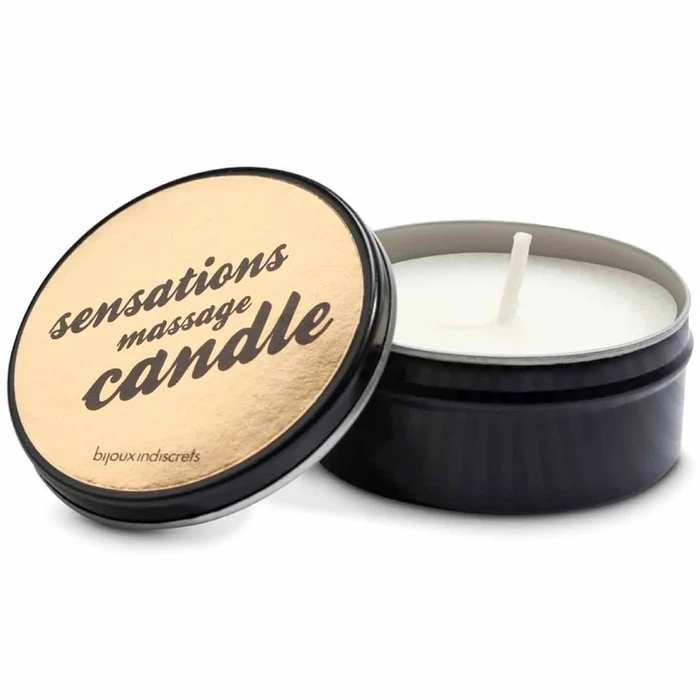 Bonbons Sensations Massage Candle
In stock
Delivery 3-6 days
Overview
Lather each other in massage oil from Bonbons Sensations Massage Candle. The candle is made of solidified massage oil. Light the candle and leave it burning for approximately 15 minutes until the oil liquefies. Blow out the candle and then pour the hot, liquid massage oil out on your partner's body.
The Massage candle is perfect for a sensual massage or perhaps as foreplay before sex. The gentle scent of rose and jasmine will both soothe and stimulate.
The massage oil will feel warm on the skin, but not burning hot.
There should be enough oil for several uses, depending on how much oil is used per massage.
Brand
Bijoux Indiscrets
Sub Brand
Bonbons
Product Weight (g)
35
Volume (ml)
35
Ingredients
Prunus Amygdalus Dulcis (Sweet Almond) Oil, Cocos Nucifera (Coconut) Oil, Stearic Acid, Palmitic Acid, Butyrospermum Parkii (Shea) Butter, Squalene, Glyceryl Stearate SE, Tocopherol (Vitamin E), Beta-Sitosterol, Parfum (Fragrance)
Scent
Jasmine, Rose
Lubricant Base
Oil based
Lubricant Qualities
Scented
Colour
White
Properties
Not suitable for latex condoms, Vegan
Language
English
SKU
10033
Customer reviews (0)
Sexy
Really good light, which gives the dough wonderful oil. Pink just too small
UK - 27. dec. 2019
A must
I am simply very surprised at how good a massage light can be, it can far from be used only for foreplay. Is simply indispensable in the bedroom, you can just m...

Read more
Bonny - 14. mar. 2018
Creamy and warm
A lovely massage candle both for intimate moments or just a regular massage. Unlike ordinary massage oil, this one is firmer, a bit like a lotion. The oil is mi...

Read more
Beatrice - 5. may. 2018
Wonderful scent
The product has a really wonderful scent. However, it was not as oily or slippery as I expected. Otherwise, a very good product and comfortable to wear nonethel...

Read more
peach - 19. apr. 2021
Perfect
This massage candle is the best of its kind! The smell and texture are very good. We will certainly order this again
Polycouple - 20. sep. 2019
Benefits