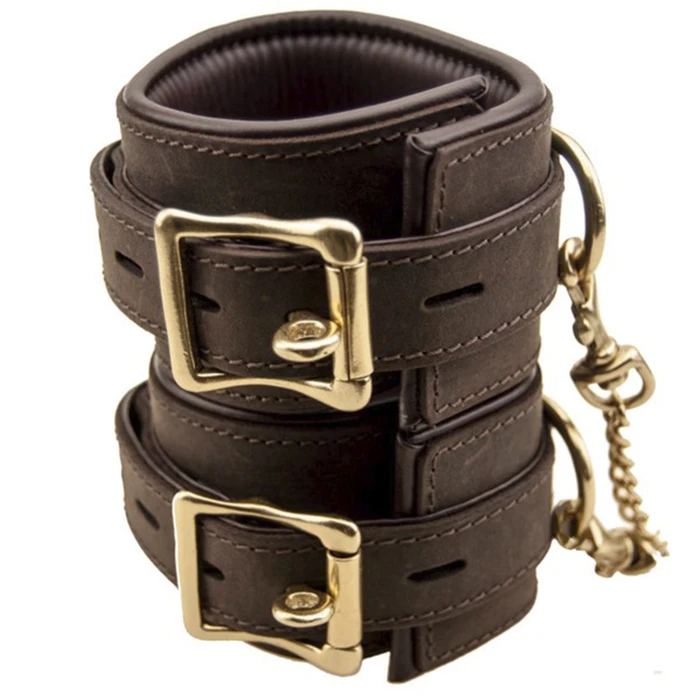 Bound Leather Wrist Cuffs
In stock
Delivery 3-6 days

Sinful Clean Sex Toy Cleaner 100 ml
Overview
Enjoy fixation and bondage play with these stylish Bound wrist cuffs in genuine nubuck leather.
Designed with an internal lining of padding to ensure comfort, even during long sessions of play. The design is without compromise on durability and the very important sense of fixation. 
The size is adjustable with help from the strong buckles, which can easily be adjusted to fit both him and her.   
Attach the chain to the D-rings to transform the wrist cuffs into handcuffs. You can also tie your partner to the bed, spreading bar, sex swings or other favourite gear, so that you have full control. 
It is a must-have for you who likes to experiment with sensual play, bondage, domination and S/M. In a quality that satisfies the most discerning leather enthusiast.
Brand
Bound
Product Weight (g)
245
Full Length (in)
5.12
Width (in)
2.36
Circumference (in)
12.36
Stretchable Circumference
Yes
Primary material
Nubuck Leather
Colour
Brown
Language
English
SKU
16989
Customer reviews (0)
Fantastic quality, beautiful and incredibly naughty
Again, the wife thinks it should be nice, even though she is always blindfolded and they hang nicely on the wall, seems like really good quality, nice with the ...

Read more
The new couple - 10. mar. 2020
Good material
Very good material, and very comfortable against the skin. Wish there were a few more holes to attach the lock in, possibly a little shorter space between them....

Read more
Johny Cash - 26. apr. 2021
Solid and good cuffs - not very good options for adjustments
Great cuffs. But due to this there are too few holes (due to the ability to fasten the buckle) and slightly big leaps in size. This makes it difficult to get t...

Read more
Per - 4. jan. 2021
So pretty
Attractive, comfortable shackles that fit well, even on me with small wrists and which have a strong leather smell. Just this feeling of really strong shackles ...

Read more
By the sea - 24. jan. 2021
Nice, decent price but not without "problems".
If we start with the positive, the shackles are nice (certainly a matter of taste) - but the combination of brass and brown leather is very nice. They are also ...

Read more
Stefan - 21. oct. 2020
Benefits