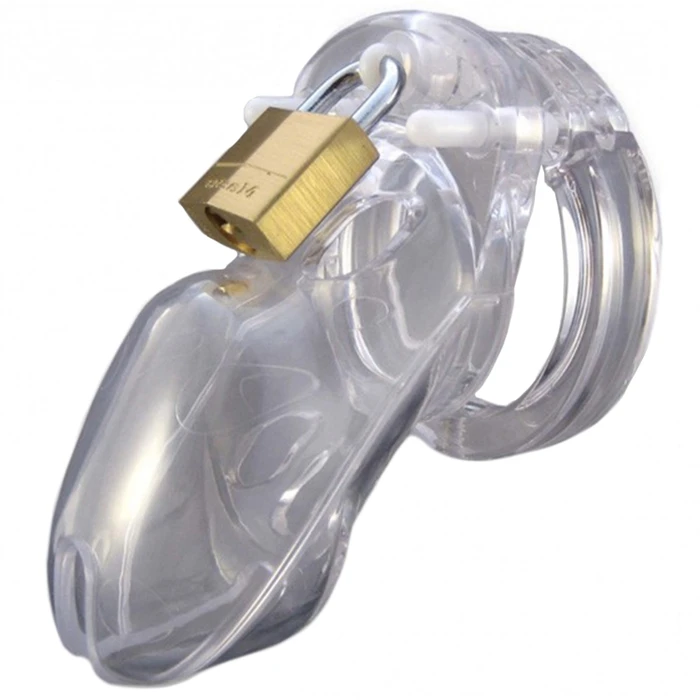 CB-3000 Chastity Device (3 inches)
In stock
Delivery 3-6 days

Plastic Locks for Chastity Belts Pack of 10

Sinful Silk Silicone Lube 100 ml

Sinful Clean Sex Toy Cleaner 100 ml


CB-6000 Lock Pins Pack of 4
Overview
The CB 3000 Chastity Device is for men who want products of very high quality. The CB-3000 and the other chastity devices from the same series are considered the best on the market. The CB-3000 is made from polycarbonate (hard plastic), which makes it light and extremely durable.
The rings, spacers and lock pins of different sizes make it possible to adjust the device so that it fits you perfectly. The diameter of the 5 rings is 1.5 inch, 1.5 inch, 2 inches, 2 inches and 2 inches respectively.
The chastity device has a length of 3 inches and an internal diameter of 1.4 inch. Check out our chastity device of different sizes: CB-6000 (3.3 inches), CB-6000S (2.5 inches) or The Curve Chastity Device (3.7 inches).
How to use the CB-3000 Chastity Device: - Put the desired ring over your penis and testicles. - Put the top ring piece on the ring with the lock pins. - Put the spacer on the lock pin. Then insert your penis into the cage and lock it with the padlock (alternatively you can use the plastic locks). - Tip! Rub some lube on your penis to make insertion more comfortable.
The CB-3000 comes with: Penis cage, 5 rings of different sizes (+ 1 top ring), 4 spacers and lock pins of different sizes, metal padlock with key, 5 plastic locks with individual numbers, storage pouch.
Brand
CB-X
Product Weight (g)
123
Full Length (in)
2.99
Inner Depth (in)
3.15
Diameter (in)
1.5
Inner Diameter (in)
1.38
Stretchable Inner Diameter
No
Primary material
PC (Polycarbonate)
Colour
Clear
Recommended Lube
Water based
Language
Spanish, French, German, English
SKU
11756
Customer reviews (0)
CB-Best!
Have only good things to say - There are more "distance pins" and "rings" with so you can get a most comfortable fit - The padlock is of surprisingly hot qualit...

Read more
Mikkel K - 6. may. 2020
super stimulating chastity belt
This chastity belt is definitely the best I have tried. If you just spend a little time finding the right distance piece, then it just fits really well. It is n...

Read more
Thomas - 23. may. 2014
Benefits