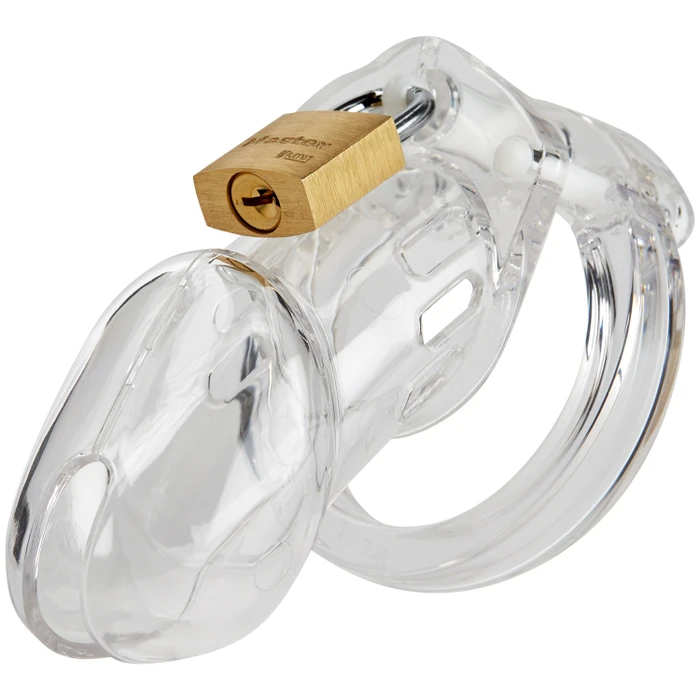 CB-6000 Chastity Device (3.2 inches)
In stock
Delivery 3-6 days

Plastic Locks for Chastity Belts Pack of 10

Sinful Silk Silicone Lube 100 ml

Sinful Clean Sex Toy Cleaner 100 ml


CB-6000 Lock Pins Pack of 4
Overview
This is the original CB-6000. Many people consider the CB-6000 male chastity device and other chastity devices from the same series to be the best on the market. The CB-6000 is made from polycarbonate (hard plastic), which makes it light and extremely durable.
The rings, spacers and lock pins of different sizes make it possible to adjust the device so that it fits you perfectly. The diameter of the 5 rings is 1.5 inch, 1.6 inch, 1.8 inch, 1.9 inch and 2 inches respectively.
The chastity device has a length of 3.2 inches and an internal diameter of 1.4 inch. It is therefore suitable for average penis sizes - depending of course on how tight you want it to be. If you want a chastity device in a larger or smaller version, check out the CB-3000 (3 inches), CB-6000S (2.5 inches) or The Curve Chastity Device (3.7 inches).
How to use the CB-6000 Chastity Device: - Put the desired ring over your penis and testicles. - Put the top ring piece on the ring with the lock pins. - Put the spacer on the lock pin. Then insert your penis into the cage and lock it with the padlock (alternatively you can use the plastic locks). - Tip! Rub some lube on your penis to make insertion more comfortable.
Content: Penis cage, 5 rings of different sizes (+ 1 top ring), 4 spacers and lock pins of different sizes, metal padlock with key, 5 plastic locks with individual numbers, storage pouch.
N.B.! We also stock a chrome version of this chastity device here at Sinful.co.uk
Brand
CB-X
Product Weight (g)
119
Included
Penis cage, Rings, Ring, Spacers , Lock pins, Padlock with Keys, Padlocks, Lubricant Sample, Storage Bag
Full Length (in)
3.25
Inner Depth (in)
3.15
Diameter (in)
1.97
Inner Diameter (in)
1.38
Stretchable Inner Diameter
No
Primary material
PC (Polycarbonate)
Colour
Clear
Recommended Lube
Water based
Language
Spanish, French, German, English
SKU
11755
Customer reviews (0)
Good cage
Good and stable but for me it is on the verge of being too small without huge resources but good and comfortable once it is on and can be worn for a long time w...

Read more
Fredrik - 3. may. 2021
Awesome product
Tct Two years ago at Midsummer, I asked my friend about the secret to their sex life and relationship. She then showed these chastity belts. I secretly borrowe...

Read more
Maria - 21. jun. 2020
Magic thing for men
A magical invention. My husband is so much better and has found his feminine side with the chastity belt. He wanted to be cuckold and after a few years we trie...

Read more
Scanian girl - 30. may. 2020
Good product and some tips on games too
Fell into this and this cage of chastity by chance after his wife received a tip from a yoga buddy during a wine night during a yoga night. Work hard in the b...

Read more
Andreas - 24. apr. 2020
Fantastic and not so kinky
Got tips from a friend about this. You steer your old man to a better being. My husband has discovered more at, for example, bathhouses and the like, even thoug...

Read more
Pia - 14. mar. 2020
Benefits