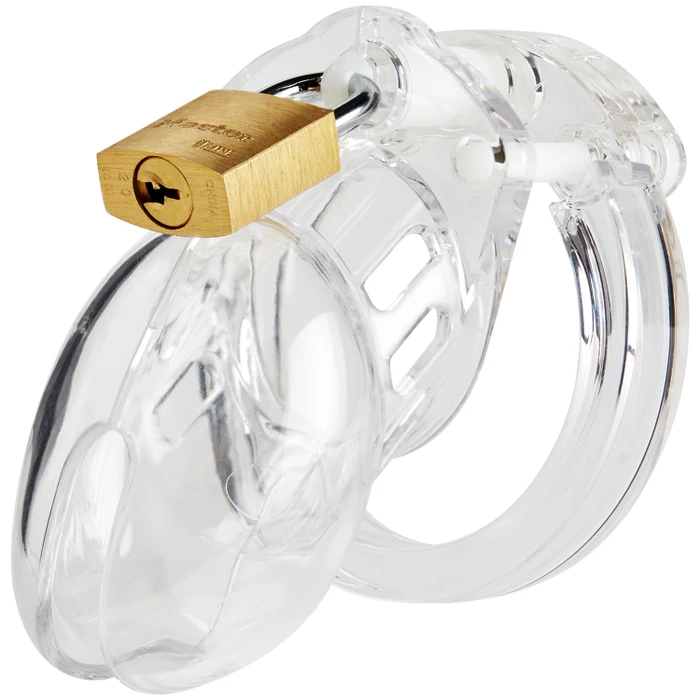 CB-6000S Chastity Device 2.5 inches
In stock
Delivery 3-6 days

Plastic Locks for Chastity Belts Pack of 10

Sinful Silk Silicone Lube 100 ml

Sinful Clean Sex Toy Cleaner 100 ml


CB-6000 Lock Pins Pack of 4
Overview
Many people consider the high-quality CB-6000S and other chastity devices from the same series to be the best on the market. With its 2.5 inches, the CB-6000S is somewhat smaller than the original CB-6000, which you can also find here at Sinful.co.uk.
The CB-6000S is made from polycarbonate (hard plastic), which makes it light and extremely durable. It comes with rings, spacers and lock pins of different sizes, which makes it possible to adjust the device so that it fits you perfectly. 
The chastity device has a length of 2.5 inches and an internal diameter of 1.5 inch. If you want a chastity device in a larger version, check out the CB-3000 (3 inches), CB-6000 (3.2 inches) or The Curve Chastity Device (3.7 inches).
How to use the CB-6000S Chastity Device: - Put the desired ring over your penis and testicles. - Put the top ring piece on the ring with the lock pins. - Put the spacer on the lock pin. Then insert your penis in the cage and lock it with the padlock (alternatively you can use the plastic locks). - Tip! Rub some lube on your penis to make insertion more comfortable.
Content: Penis cage, 5 rings of different sizes (+ 1 top ring), 4 spacers and lock pins of different sizes, metal padlock with key, 5 plastic locks with individual numbers, storage pouch.
The CB-6000S won the "Best Niche Product" XBIZ Award in 2013.
Brand
CB-X
Product Weight (g)
120
Included
Penis cage, Rings, Ring, Spacers , Lock pins, Padlock with Keys, Padlocks, Lubricant Sample, Storage Bag
Full Length (in)
2.5
Inner Depth (in)
2.36
Diameter (in)
1.5
Inner Diameter (in)
1.38
Stretchable Inner Diameter
No
Primary material
PC (Polycarbonate)
Colour
Clear
Recommended Lube
Water based
Language
Spanish, French, English, German
SKU
12523
Customer reviews (0)
Great Kit
This was not the first of the cb range that I bought. The materials are sturdy and the cage is a good fit. Easy to keep clean and will last well.
Mur348 - 10. oct. 2021
Great Cage at a Great Price
My first chastity cage! Came in 4 days, so not bad. Discretely packed. New style boxing confused me for a moment but, exactly the right product. I'm an average ...

Read more
pleasantlyfrustrated - 18. jun. 2021
Good product
The CB-6000s is a great product with plenty of options to adjust it exactly to your size with the exception of the penis tube itself. Unfortunately for me the i...

Read more
AnonSissy - 4. mar. 2021
5 stars for a reason
I have tried several different penis cages, and have found that I am a grower, not a shower. A cage like this was therefore perfect for more, I found out almost...

Read more
Johnny - 21. oct. 2020
Good Product and some tips
Married to an older man who has a lot of time compared to me who works in healthcare. His looks and interest in women of the same age or younger to me were curb...

Read more
Marie - 20. jun. 2021
Fantastic product
We have supplemented his regular, slightly larger CB6000, with this one slightly smaller and it turned out great. A tip is to wear the larger one and just quic...

Read more
Dorte C - 14. nov. 2020
Better late than never
Unknown to me until I heard about chastity cages from a friend and my interest awoke. Took courage to me and chose this one without my husband's knowledge. One ...

Read more
Christina - 4. oct. 2020
Benefits