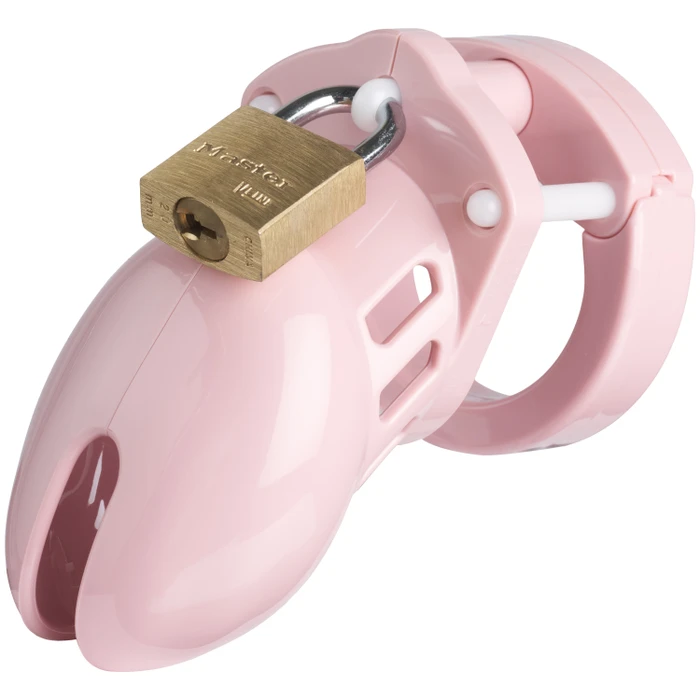 CB-6000S Chastity Device Pink 2.5 inches
In stock
Delivery 3-6 days

Plastic Locks for Chastity Belts Pack of 10

Sinful Silk Silicone Lube 100 ml

Sinful Clean Sex Toy Cleaner 100 ml


CB-6000 Lock Pins Pack of 4
Overview
Try the popular, bestselling CB-6000S chastity device in wicked pink.
The CB-6000S is made of polycarbonate (hard plastic), which makes it lightweight and extremely durable. The CB-6000S comes with rings, spacers and locking pins in different sizes, so you can adjust the chastity device to fit you perfectly.
The CB-6000S has a length of 2.5 inches and an inner diameter of 1.4 inch. 
How to use the CB-6000S Chastity Device: - Choose one of the five rings and pull it over your penis and balls. - Attach the top ring piece to the ring using the locking pins. - Insert a spacer on the locking pin. Then insert your penis into the cage and lock the cage using the padlock (alternatively, you can use the plastic locks). - Tip! Apply some lube to your penis before inserting it into the CB-6000S to increase comfort.
The CB-6000S in pink contains: Penis cage, five base rings in different sizes (+ one top ring), four spacers and locking pins in different sizes, metal lock with key, five plastic locks with individual numbers, storage case.
Brand
CB-X
Product Weight (g)
120
Included
Penis cage, Rings, Ring, Spacers , Lock pins, Padlock with Keys, Padlocks, Lubricant Sample, Storage Bag
Full Length (in)
2.5
Inner Depth (in)
2.36
Diameter (in)
2 | 1.9 | 1.8 | 1.6 | 1.5
Inner Diameter (in)
1.38
Stretchable Inner Diameter
No
Primary material
PC (Polycarbonate)
Colour
Pink
Recommended Lube
Water based
Language
French, Spanish, English, German
SKU
22248
Customer reviews (0)
Kinky product of fantastic quality for couple's play.
My partner asked if I wanted to try this type of play (chastity belt), and oh wow, we have both got completely hooked, or should I say locked (badum tss) on the...

Read more
Open minded - 30. jan. 2020
Benefits