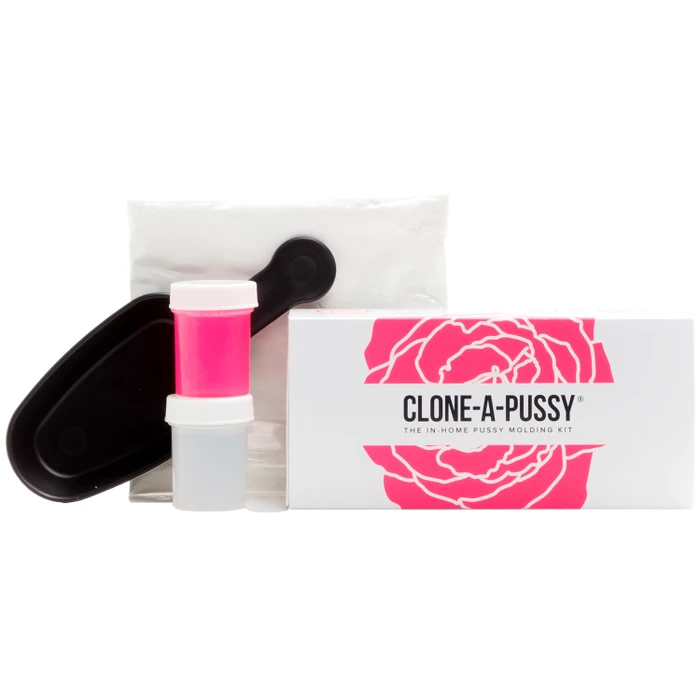 Clone-A-Pussy Clone Your Own Vagina Kit
In stock
Delivery 3-6 days
Overview
With Clone-A-Pussy, you can very easily make a true copy of the external shape of your vagina.
Clone-A-Pussy is a fun gift for someone close to you.
This kit consists of everything you will need: instruction, powder for casting, rubber blend, mould and stirring stick. The kit is produced in the USA and is hypo-allergenic and body-safe.
How to use the Clone-A-Pussy: 1. Blend the casting powder with water and pour it in the moulding container. 
2. While you sit on a chair, place the container up against your vagina. Hold it there for 2-4 minutes. Now your mould is complete.
3. Mix the 2 bottles of liquid rubber and liquid skin, and pour the finished mass into the mould.
4. Wait 24 hours and you have a true copy of your own vagina. Note! The cast is not suitable to use for masturbation.
Note! Remember always to follow instructions in the manual, according to time and temperature etc, for the best results.
Brand
Clone-A-Pussy
Primary material
Silicone
Colour
Rose
Properties
Vegan
Language
English, Spanish, French, German
SKU
11498
Customer reviews (0)
Good service
Super cool experience
Fie os Hansen - 22. jan. 2020
Clone a Pussy
Have an incredibly nice picture of my girlfriend's pussy Nothing you masturbate with but sometimes look at it and it makes me horny. A fun experience to do it ...

Read more
Jonas Emanuelsson - 23. mar. 2021
You need to be fast
Was very excited about this product but unfortunately ended up angry when I realised how fast the clay solidified. Didn't even get a chance to make an impressio...

Read more
Alexandra - 12. sep. 2020
Fun but not particularly useful...
It was definitely a fun product and experience with my partner but I must point out that the material was not directly the most fun but incredibly hard when the...

Read more
Elin - 8. may. 2020
Incomplete instructions
The amount of water mentioned in the instructions hardens the moulding powder far too quickly. The mixture hardens already in the mould before being applied to ...

Read more
Nothappy - 7. sep. 2020
Benefits