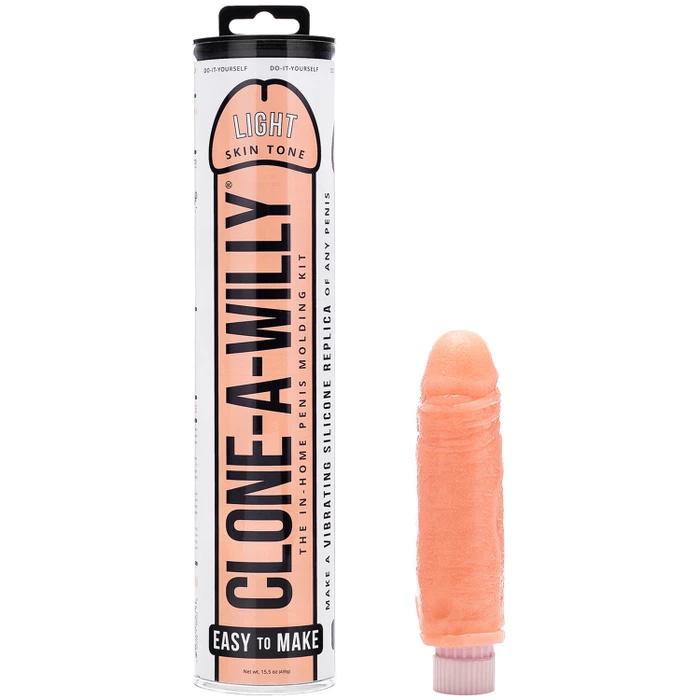 Clone-A-Willy DIY Homemade Dildo Clone Kit Light Skin Tone
In stock
Delivery 3-6 days

Philips LR06 AA Alkaline Batteries Pack of 4

Sinful Aqua Water-based Lube 100 ml

Sinful Clean Sex Toy Cleaner 100 ml

Sinful Cock Ring Set 3 pcs
Overview
The Clone-A-Willy kit is an easy and fun tool for making a precise, vibrating copy of your penis in platinum cure silicone. Cast it together with your partner or make the end result a surprise gift that can be enjoyed together or alone.
The kit includes everything you need to complete the casting process successfully - just read the comprehensive instructions thoroughly before starting and follow them closely. Pay special attention to the time and temperature limits to achieve best results. 
Clone-A-Willy is made of completely body-safe materials and the resulting dildo vibrator can be used as a sex toy. We recommend using it with water-based lube. The vibrator is powered by 1x AA battery, which is sold separately.
Pro tip! We recommend using a cock ring to help you maintain your erection while making the mold.
Brand
Clone-A-Willy
Included
Molding tube, Thermometer, Molding powder, Silicone base, Stirring stick, Vibrator
Full Length (in)
11.02
Insertable Length (in)
11.02
Inner Depth (in)
11.02
Diameter (in)
2.56
Inner Diameter (in)
2.56
Stretchable Inner Diameter
No
Width (in)
2.56
Power Source
1 x AA (Not included)
Vibration Speed(s)
1
Primary material
Silicone
Colour
Nude
Recommended Lube
Water based
Properties
Vegan
Language
English, Spanish, French, German
SKU
10040
Customer reviews (0)
Lots of fun!
My boyfriend and I bought this set, we read that some people failed in the attempt to cast it, so we bought an extra casting powder. But we did not need it, bec...

Read more
PL - 14. mar. 2021
Useless
The product does not fail in anything, but you should write that if you are just a little well equipped, then there are not enough products at all. The tube it ...

Read more
Couples - 20. dec. 2020
Very dissatisfied
Good instructions etc but does not help if you have to be under 10cm to make some kind of copy, which in that case makes it quite useless
Erik - 23. feb. 2021
Fun thing!
It went quite well. For some reason I happened to come while we were working on it, so it got a little messier than it should be, haha. Cool thing in any case!
Erik - 11. aug. 2021
Useless
Our opinion, after two attempts, we have given up. Heated the water according to instructions and we thought we were fast, but he barely filled the mass to the ...

Read more
M.D - 4. jul. 2021
Benefits