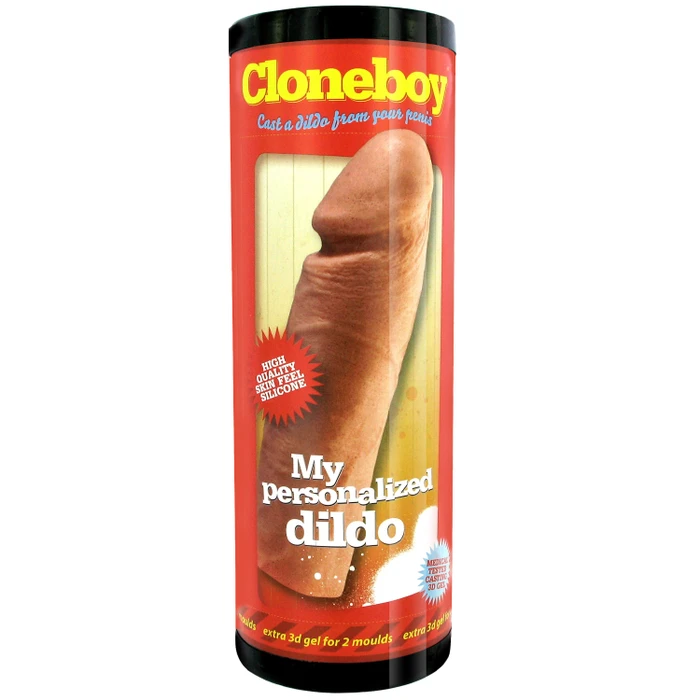 Cloneboy Make it Yourself Dildo Nude
In stock
Delivery 3-6 days

Sinful Aqua Water-based Lube 100 ml

Sinful Clean Sex Toy Cleaner 100 ml
Overview
With this original Cloneboy Make it Yourself Dildo set, you can build a dildo in a true copy of your penis.
The set contains everything you need for the simple process: 1 casting tube, 2 packs of casting powder, a cock ring, a wooden stirring stick, plastic gloves, silicone rubber, hardener and a user guide.
How to use the Make it Yourself Dildo set:
1. Blend the casting powder with water until it becomes a gel. 2. Place your penis with the gel, in the casting tube and wait for it to solidify. 3. Pour the silicone into the form. 4. Wait 24 hours, and you will have a true copy of your own penis.
Cloneboy Make it Yourself Dildo is the perfect gift for birthdays, bachelor parties or when you are about to travel far away from your partner.
100 % body-friendly and medically tested materials.
Measurement of the Cloneboy casting tube: 3 inches. in diameter, 9 inches. long.
N.B.! The silicone blend needs to be mixed in the container in which it comes, as it can be difficult to get it out of a regular bowl. Remember always to follow instructions in the user guide in terms of time and temperature etc, for the best results.
Brand
Cloneboy
Full Length (in)
9.25
Insertable Length (in)
9.25
Inner Depth (in)
9.25
Diameter (in)
2.95
Inner Diameter (in)
2.95
Stretchable Inner Diameter
No
Width (in)
2.95
Primary material
Silicone
Colour
Nude
Recommended Lube
Water based
Properties
Vegan
Language
German, French, Dutch, English
SKU
11728
Customer reviews (0)
Good idea, but
The product can in theory give you a silicone replica of your penis (or any other object you now want to make a replica of). First the good things: + The instr...

Read more
Jens - 14. sep. 2013
Too little silicone
I am 19.5 with medium thickness and there was too little silicone to be satisfied
Nutmeg - 14. feb. 2020
Come at once!
This one does the job that not even the original can handle! Have never come so fast! We live apart from each other and guess if it's nice to be able to have fu...

Read more
Helen - 10. may. 2019
Low-quality product
The moulding powder was lumpy, and mixing the water with an electric mixer didn't help either. In addition, a lot of air bubbles came into the silicone gel once...

Read more
M - 22. nov. 2020
Benefits