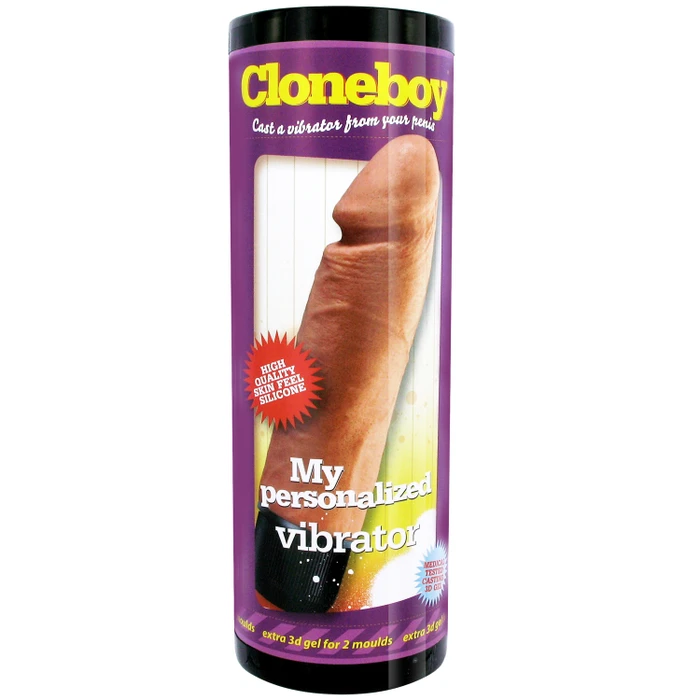 Cloneboy Make it Yourself Vibrator
In stock
Delivery 3-6 days

Sinful Aqua Water-based Lube 100 ml

Sinful Clean Sex Toy Cleaner 100 ml
Overview
With this original Cloneboy Vibrator Make it Yourself Dildo set, you can create a dildo in a true copy of your own penis with a built-in vibrator!
The Cloneboy Vibrator set contains everything you need for this simple process: 1 vibrator, 1 casting tube, 2 packs of casting powder, a pack of hardener, a pack of silicone, a cock ring, a wooden stirring stick, plastic gloves and a user guide.
How to use a Cloneboy Vibrator set: 1.Get your penis erect and keep it erect with the cock ring. 2.Blend the casting powder with water. 3.Place your penis in the casting tube and pour the gel in the form. 4.Wait a couple minutes before pulling your penis out of the tube. 5.Pour the silicone down in the form and place the vibrator in position. 6.Allow the silicone to solidify. And there you have it, a true copy of your penis in the form of a dildo with a built-in vibrator.
The Cloneboy Vibrator is a perfect gift idea for birthdays, bachelorette parties or when you are about to take a long trip away from your partner. Produced from 100 % body friendly and medically tested materials.
Measurement of the Cloneboy casting tube: Diameter: 3 inches, length: 9 inches. Measurement of vibrator: Length: 5 inches. Diameter: 1 inch.
N.B.! Remember to follow the instructions from the user guide when it comes to time and temperature etc. for the best results.
Brand
Cloneboy
Included
Molding tube, Penis Ring, Vibrator, Gloves, Silicone base, Molding powder, Stirring stick
Full Length (in)
9.25
Insertable Length (in)
9.25
Inner Depth (in)
9.25
Diameter (in)
2.95
Inner Diameter (in)
2.95
Stretchable Inner Diameter
No
Width (in)
2.95
Power Source
1 x AA (Not included)
Vibration Speed(s)
1
Primary material
Silicone
Colour
Nude
Recommended Lube
Water based
Properties
Vegan
Language
German, English, French, Dutch
SKU
13592
Customer reviews (0)
Do you have a super straight and small tool? Then maybe this is the product for you
Do you have a small penis that is also completely straight?! Congratulations(?), then this might be for you! If you have a larger tool that has a small bend to ...

Read more
Jörgen - 29. dec. 2020
Fun but not enough silicone
It is a pity that there is not enough silicone to fill out the mould :-( Besides that, it was a fun project.
Him and her - 9. dec. 2020
Hard to use
Incredibly hard to use if you are just one person. The casting mix solidifies very quickly which gives a very limited time to work with. I had to give up when t...

Read more
Cousin Blob - 10. jul. 2019
Funny
Great product. A little difficult to get good results, but definitely fun. Apart from the fact that it is difficult to stay hard when you get cold liquid on ...

Read more
Me - 1. jun. 2020
Good product.
The product itself was of very high quality. There were quite a few blurs. :D The most brilliant idea was that the package contains the necessary ingredients in...

Read more
Pala - 21. may. 2021
Benefits