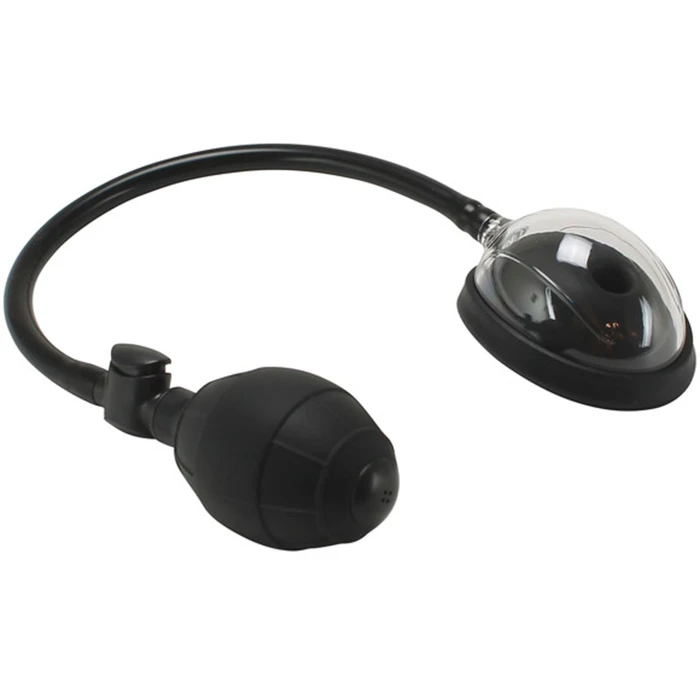 Black Treasure Vagina Sucker
In stock
Delivery 3-6 days

Sinful Aqua Water-based Lube 100 ml

Sinful Clean Sex Toy Cleaner 100 ml
Overview
With this vagina sucker, you have the possibility to increase sensitivity in and around your vagina.
The pump consists of a suction cup, on which a pipe and hand pump ball follows. In the suction cup you will find two elevations that you will be able to feel against your clitoris and labia, when you pump.
How to use the Black Treasure Vagina Sucker: Place the suction cup over your vagina, push on the hand pump and notice how it generates a titillating vacuum. 
For the first time, start out slowly and do not pump your vagina for too long.
You can ease the pressure by pushing the valve on the pumping ball.
N.B.! We suggest that you either shave or wax your intimate parts before using the pump. In addition, the producer suggests you to use a water-based lubricant with the pump.
Brand
You2Toys
Product Weight (g)
115
Full Length (in)
3.35
Inner Depth (in)
1.97
Inner Diameter (in)
2.56
Width (in)
2.56
Primary material
ABS-plastic
Colour
Black
Recommended Lube
Water based
Language
Norwegian, French, Dutch, English, Spanish, Russian, Danish, Swedish, Italian, German
SKU
13142
Customer reviews (0)
Do not like it
You press the pump twice, then nothing really happens. Think I'm very disappointed, thought it would do more. I experience no effect.
Moyo - 25. jan. 2021
Lovely and naughty
The wife loves it ... she becomes much more sensitive and it takes very little afterwards before she is in 7th heaven. It can be difficult to get it to create a...

Read more
The husband to the wife - 3. jan. 2021
Very small
Decent fit in itself, and seems to withstand frequent use. Easy to use and clean. The big downside here is that it is very small, something I did not perceive...

Read more
MikeE - 13. nov. 2018
It feels amazing!
The plus is that it feels so sexy to use it. Makes me horny on the spot. Unfortunately, it is difficult to get the effect you often see on videos, but still thi...

Read more
E - 5. may. 2020
Benefits