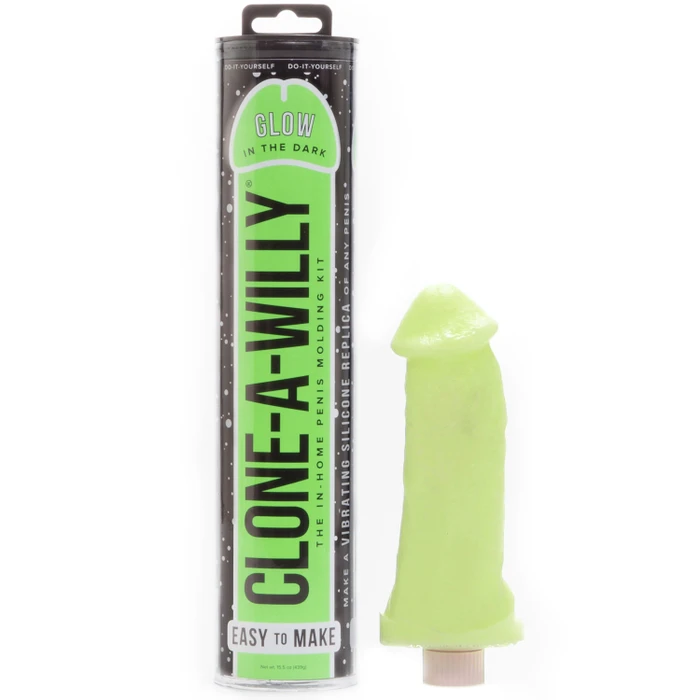 Clone-A-Willy DIY Homemade Dildo Clone Kit Glow In The Dark Green
In stock
Delivery 3-6 days

Philips LR06 AA Alkaline Batteries Pack of 4
Overview
The Clone-A-Willy Glow in the Dark is a fun way to surprise your partner. If you plan to go on a long trip away, then this will be a much appreciated gift. This way, you can be sure not to be forgotten.
With this set you can create a vibrating and luminous true copy of your penis.
Note! Be aware that the dildo is a light-skin colour in the light. In the dark it will have a beautiful green and luminous colour.
The set consists of everything you need: instructions, casting powder, silicone blend, vibrator as well as mould.
How to do it:  1. Blend the casting powder with water. 2. Place your penis in the casting tube and wait for it to solidify. 3. Pour the silicone mass into the form. 4. Wait 24 hours and remove the copy of your own penis.
Clone Willy is produced under strict requirements in the USA and is 100% body friendly.
Tip! We recommend purchasing a cock ring, if you do not already own one, to use during the casting process, to successfully hold you erection.
Remember to always follow instructions in the guide when it comes to temperature and time, for the best results.
Brand
Clone-A-Willy
Product Weight (g)
475
Included
Molding tube, Molding powder, Glow in the dark powder, Silicone base, Stirring stick, Vibrator
Full Length (in)
11.02
Insertable Length (in)
11.02
Inner Depth (in)
11.02
Diameter (in)
2.56
Inner Diameter (in)
2.56
Stretchable Inner Diameter
No
Width (in)
2.56
Power Source
1 x AA (Not included)
Vibration Speed(s)
1
Primary material
Silicone
Colour
Green
Recommended Lube
Water based
Properties
Vegan
Language
German, Spanish, English, French
SKU
11497
Customer reviews (0)
Could have been fun
When the mixture was done and I was going to place the "falos" in the container, the mixture had already solidified. Plus there was not enough mixture to fill ...

Read more
Kevin - 16. jul. 2021
Funniest night ever !!!
Can only recommend people to buy this product! I bought it for my girlfriend because she was going to have a lot of exams now here and therefore you can be a li...

Read more
Mark Nielsen - 26. may. 2014
Incredibly fun!
The result is a very detailed copy. The procedure is really fun. I think it is worth all the money even though the 2 minutes you have to make the casting makes ...

Read more
Jesper - 21. sep. 2012
12-Oct
Really fun product, love it
MsNobody - 22. jun. 2021
Nice and all that
Really lovely thing that lights up all my snuff and things, really makes it easier for Runar so that he hits the right spot. Screams loudly of pleasure every ti...

Read more
Halvdan - 5. dec. 2019
Benefits