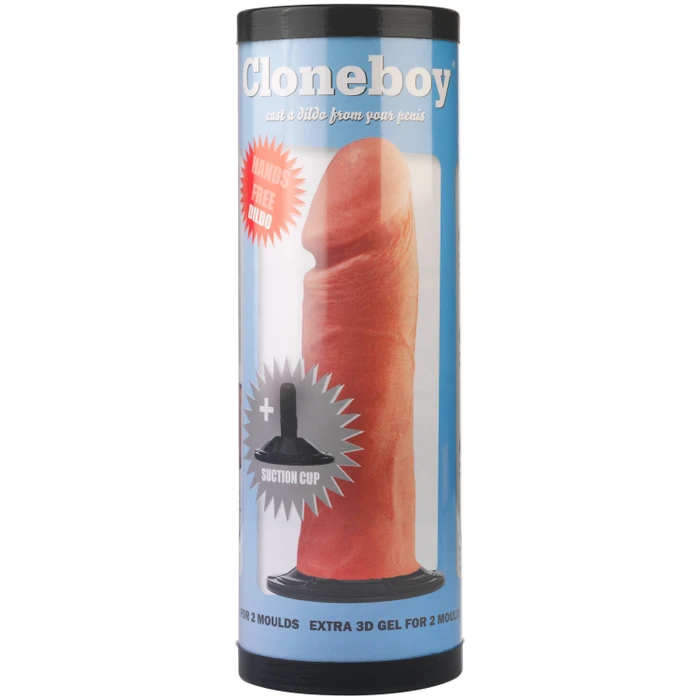 Cloneboy Make it Yourself Dildo with Suction Cup
In stock
Delivery 3-6 days

Sinful Aqua Water-based Lube 100 ml

Sinful Clean Sex Toy Cleaner 100 ml
Overview
Are you excited about the thought of cloning your penis and gifting your partner with a naughty hands-free surprise? Then this original Cloneboy Make it Yourself Dildo set with practical suction cup is a product you want to add to your basket.
The set consists of everything you need to make the most arousing silicone suction cup dildo: 1 casting tube, 2 packs of casting powder, hardener, silicone, a cock ring, a wooden stirring stick, plastic gloves and a user guide.
How to use your Make it Yourself Dildo set:
1. Blend the casting powder with water. 2. Place your penis in the casting tube and wait until it has solidified. 3. Remove your penis from the solidified mould. 3. Pour the silicone into the form. 4. Wait 24 hours, and you will have a dildo in a true copy of your own penis. 
The Cloneboy Make it Yourself Dildo is the perfect gift for birthdays, holidays, anniversaries or before leaving your partner for a long trip away.
Produced from body-safe materials.
Brand
Cloneboy
Included
Molding tube, Penis Ring, Clitoral Vibrator, Gloves, Silicone base, Molding powder, Stirring stick, Suction Cup
Full Length (in)
9.25
Insertable Length (in)
9.25
Inner Depth (in)
9.25
Diameter (in)
2.95
Inner Diameter (in)
2.95
Stretchable Inner Diameter
No
Width (in)
2.95
Primary material
Silicone
Colour
Nude
Recommended Lube
Water based
Properties
Vegan
Language
French, German, English, Dutch
SKU
20831
Customer reviews (0)
Easy to use
But u can't tell if holder in right way so u might end up with a bit of metal sticking out ... check it first if u can before adding filler
Blindguy - 9. nov. 2021
Hard to get a good result
It is difficult to make the casting and even harder to get the suction cup to sit properly. We could not make it work, so we go back to Clone A Willy
Zero fun - 5. apr. 2021
Benefits